If you want to be a successful freelancer, promote your brand or run an online business, Twitter is the best place to start. With my eight years of experience, I might say that LinkedIn is the only superior social media platform to Twitter.
Let me prove it with fantastic statistics in 2016.
Twitter has,
317 million monthly active users
100 million daily active users
500 million Tweets sent each day
65.8% of US companies with 100+ employees use Twitter for marketing
100 million daily active Twitter users, Seriously! Can you understand the potential Twitter has? If you don't have a Twitter profile yet, you already late for the party.
I created my Twitter profile (@iNirodha) in October 2011. Now I have 136k+ REAL FOLLOWERS. Almost all the followers are in my niche and engaging.
Today (26/12/2016), the official Twitter Analytics page of my profile looks like this.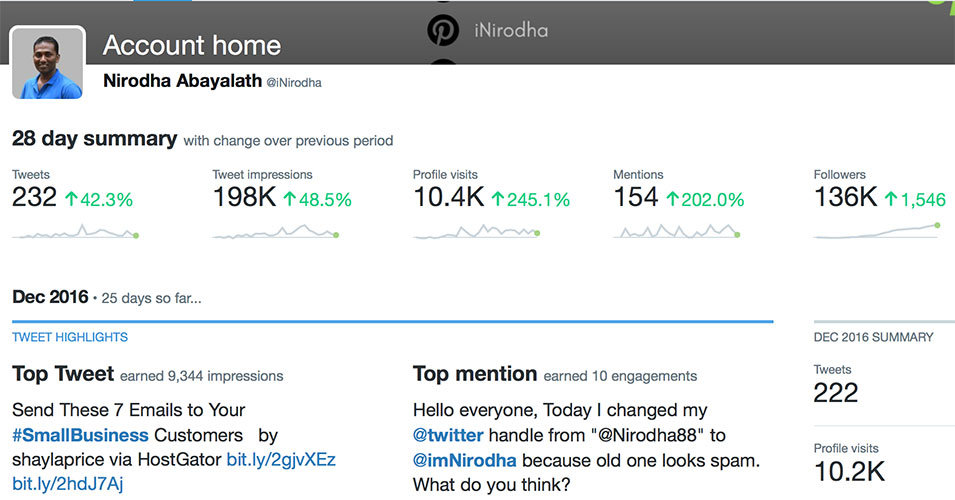 With this, you can see my profile has a decent amount of profile visits and followers are growing every day.
However, over the last few years, I have done so many wrong things and once, I lost more than 10k followers within one week. Up and downs can happen with Twitter. It is entirely natural but, one wrong move can ruin your Twitter profile entirely.
You'll have to spend years to recover. I faced that situation and knew the feeling.
Before starting this conversation, you should have an idea about Twitter rules. So, please go to the below link and read it very carefully.
Twitter has its limitations and regulations. We have to play by those rules. If not, they will not think twice to take action against us.
My personal account had suspended two or three times already because, In the beginning, I didn't even know about their rules. Nobody does.
Thanks to an open API, Twitter can use a vast array of third-party services, and it is the same reason that allowing people to use some spammy tools. So, use those tools wisely.
In this article, I'm going to tell you five things that should NOT do on Twitter ever. If you are still practicing these spammy methods, stop it right now. Your strategy is wrong. I'm telling you all this with my own experience.
1. Automated Direct Messages
In the beginning, I felt like direct messages can increase my profile exposure and induce following but, I was totally wrong.
Now my inbox is packed with automated messages. It really annoys me. I don't even open those messages, and the first impression is awful.
When I wanted to unfollow Twitter accounts, sometimes I open a few messages and unfollow those who send the automated messages.
One of my clients once told me that he gave up on Twitter mainly because of automated direct messages. DM can do such damage.
Great relationships can be built with direct messages, but we are using it wrong.
Some third-party tools like Crowdfire and Socialoomph provide automating DM services but, my advice is if you really want to send direct messages to your new followers, do it manually and write a personal message.
2. Buy Twitter Followers
FAKE followers are a big problem for Twitter, and many are spammers. You can buy 2000-3000 FAKE followers (average) for $5 from Fiverr and some other agents. Don't even think of buying fake followers.
Your account will not be suspended by buying followers but, definitely will damage. Anybody can identify those followers just by looking at it.
Most of them don't have profile pictures, cover images or bio. Some of the accounts don't even have a single tweet. Some look like porn stars.
So, when you have a large number of followers, usually people go through your followers. With fake followers, they have a really bad impression on you.
100 real engaging followers are worth much more than 100k FAKE followers.
If you have already bought fake followers, cleanse your account right now for the greater good. You can extract both fake followers and fake followings with one click using ManageFlitter.
3. Twitter Followers Generating Tools
These are credit sharing methods. There are some tools that you can earn credit by following people via any social media and like their posts, sharing posts, retweeting, watching youtube videos, subscribe to channels like that.
Then you can use those credits to generate followers. Again, most of the followers you get from this method is FAKE.
People use fake accounts to earn credits. So, you are followed by those fake accounts. Never practice this either.
4. Aggressive Following and Unfollowing
This isn't a race. Having a huge number of followers is not the most important thing. Don't try to grow your account by bulk following and unfollowing.
It degrades the quality of the Twitter network and annoys people. Play nice, your account will grow.
Twitter doesn't allow any bulk following and unfollowing. If you follow and unfollow hundreds of accounts within one day, your account will be suspended. I did practice that in the beginning, and I know the consequences.
Twitter has elaborated everything about their rules of the aggressive following and unfollowing. Please read this and keep everything in mind. They are not boasting. I know that.
Twitter #Hashtags are for relevant topics searching. Yes, of course, hashtags can increase your reach and engagement but, you should use hashtags wisely.
Tweets with more than two or three hashtags are very unappealing to read and need an extra effort.
What do you think about this Tweet?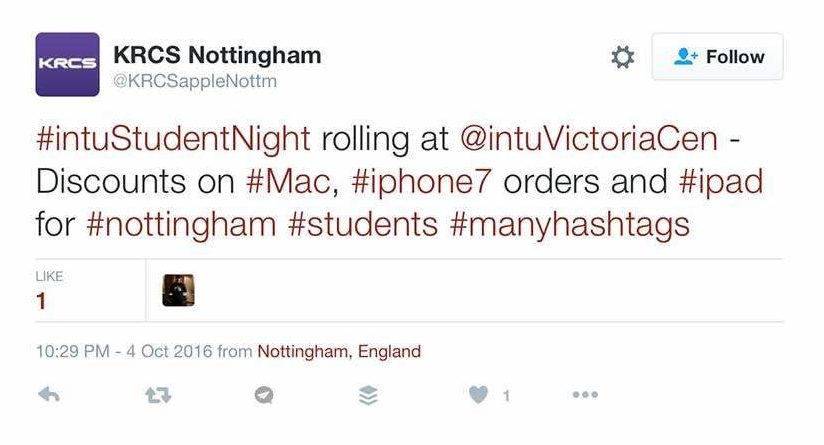 Over to you
Note: Please don't forget to PIN the image below.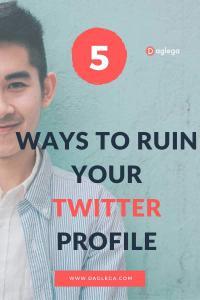 We can't deny that Twitter is one of the greatest marketing tools but, you should not try to sell on your social media all the time. First, build up your profile slowly and with real and niche-specific followers, then you can use it for your blog or business.
Sharing visual content such as your business cards, images, videos, music can increase engagement dramatically compared to the plain text.
Over-tweeting is also not a good practice. Sometimes, people may unfollow who do excessive tweeting. You should find the right times to tweet and post regularly.
You have only 280 characters for your message and hashtags. Use a URL shorter (Bitly, Buffer) and save some characters, and don't do any grammar/spelling mistakes. It looks very unprofessional.
Questions, comments, mentions or replies must not be ignored when you are building your relationship with people. Those are the most powerful features of Twitter.
Follow these simple rules. You can avoid ruining your Twitter profile.
What are your rules when you work on Twitter? Have you ever caught for violating their rules? Please share those with us in the comment section.SaveSaveSaveSaveSaveSaveSaveSaveSaveSave