This is my very first blog post, which might be a lousy piece. I know that. So, I'm updating this every week. You'll see some missing sections, updating topics, or unfinished paragraphs because I'm doing all this updating on the live blog. I hope you will see the best version of this article.
Yeah!!! For the first time in my life, I started writing to the public. I'm really thrilled about that. You'll understand the feeling when you have defeated your fears and started writing your first blog post.
For my whole life, I was worried about my writing. My grammar is not perfect. My vocabulary is not enough for a good article, and I don't speak flawless English.
I was thinking too hard endlessly about these same things.
This endless battle against my mind drives me to a very helpless position. Fortunately, I finally won the battle. Maybe I didn't defeat the fears entirely, but I achieved what I wanted to achieve then.
How did I do that? I just wanted to tell you my story.
Haters are going to hate. People will laugh at me. Should I worry about them? No. Not at all. We just have to control our own minds. It is where the whole world lies.
And we can't command the world. When we command ourselves, we already have commanded the world.
I realized that ignoring is one of the best answers. I no longer worry about anything people think about my work. However, I do respect what they have to say because we can learn good things even from the haters.
So, the story or the strategy I'm going to tell you now is based on my personal experiences. Expert bloggers might think or see things differently, but I just want to show you how I thought as an absolute beginner and defeated the fears of writing.
So, this may or may not work for you. Even if you tried my methods for your first blog post, no harm would come. At least I can promise you that.
1. Read top to bottom. Not only the bullet points
We are busy. I know that, but you have to find time for this if you want to overcome your writing fears.
Most of the readers (including me) read only the highlighted points or skim through the bullet points. Don't do that again. At least until you could up your confidence level and started writing your first blog post.
Find related articles from top authors and read from the first word to the last.
You should do this not to learn what they wrote about. You are reading to understand how experts write.
How they express their thoughts simple and clean. How they solve the problems of their readers.
First, we have to learn writing, right? Here are the four remarkable blogs to learn about writing/blogging. Read these blogs regularly. These blogs helped me a lot to overcome my fears.
ProBlogger
Copyblogger
IWannaBeABlogger
SmartBlogger
BloggersPassion
So, let me suggest a few articles from top bloggers for you. Reading these articles makes you feel like "I can write as they write." That feeling is good.
I have written an article about the 25 best social media marketing blogs that everybody should follow in 2020.
By following these blogs, you'll be able to learn how to write social media marketing, content marketing, email marketing, SEO, blogging, and more at the same time.
Isn't that great?
Here it is; The 25 Best Social Media Marketing Blogs to Follow in 2020
Be Authentic.
Even if you are a beginner, authenticity is a must. Authentic writers and authentic content survive on the internet for a very long time. Others will definitely collapse very soon.
2. Find a better word-processing app
This is genuinely the most important point for beginners who are struggling to write their first blog post. So, I published an article on this topic too.
Related article: Develop a Writing Habit With These Amazing Writing Tools.
I have heard people say that spending money on an advanced word-processing app is unnecessary for a beginner, but I think differently.
Having a better writing app than Microsoft Word or Apple Pages (MacOS) will help you write and organize your reference materials.
Experienced writers may not want any other app. They can even write their article on a notepad, but as beginners, we are in a fragile stage.
Writing should feel like a fun game for us. If not, the mind will give up writing even before you start your first blog post.
So, don't worry. Please spend a few bucks on a good word processor. It is an investment and could be the best decision you have ever made.

I am writing this my first blog post on Scrivener. I can recommend that to any blogger, from beginners to professionals. It is not the cheapest, but it is one of the best.
Most professional bloggers are using that, according to my research. I don't know much about most of the paid software out there. Do your research and find a better one.
However, Microsoft Word and Pages are not enough because those provide a very distracting environment to the writer.
Let me mention some software. But please read reviews, watch a few YouTube video tutorials, and even try free trial versions before making your decision.
These are a few paid word-processing apps specially designed for writers.
Ulysses                $40/Year (Mac)
Bear                     $14.99/Year (Mac)
Byword               $11 (Mac)
iA Writer            $30 (Mac)
Desk PM             $20 (Mac)
Slugline              $40 (Mac)
3. Use a grammar checker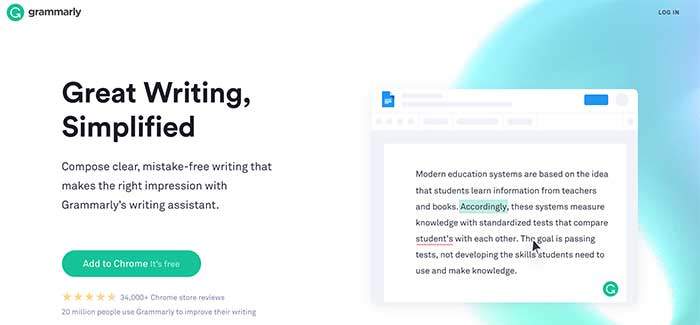 Even pro-content writers always make critical grammar errors and typos. These days we have smart and well-developed software and mobile apps for any task.
So, why wouldn't we use a grammar checker for that?
I have tested almost all the grammar checkers in the market today. According to my experience, Grammarly is the best digital writing assistant.
This is not just for beginners. Even pro content writers can get benefit from this fantastic app and save a lot of time and money that you waste on an editor.
I'm not saying that Grammarly can replace a pro editor 100%, but for beginners and bloggers who do not make any money from their blogs, Grammarly is the best choice.
4. Build a personal blog. Self-hosted is better
Reading blogs and finding a better word processor are critical. So, consider those points before start writing your blog post.
You must buy a domain name, hosting service, and a theme for a self-hosted blog. That means $20-$30 for the 1st year.
Namecheap is the best place to buy a domain name and hosting for an absolute beginner.
Because of two reasons, they have the lowest prices in the market (click the banner below to find their amazing deals), and their live chat (live customer care support) is excellent.
You just have to chat with support staff, and within minutes, they'll do everything for free.
There are many beautiful free themes available on the internet. Even if you are unwilling to spend this much money for a start, you should. That is my personal idea.
I decided to spend $30 on my blog from the beginning for two reasons.
One, when we have to spend some money, we feel the gravity of blogging, and it will encourage us to write and publish.
Two, we must have complete access to all the functions of our blog and ease of handling. If not, as I said before, you will give up on your blog and, ultimately, the writing.
Setting up your personal blog is not as hard as it looks. You don't have to know anything about programming languages or coding.
I did not know and still don't, but I created this simple and clean blog. Isn't it enough?
I recommend Wordpress over Blogger for beginners because it is easy to handle, learn, and modify using theme options and widgets.
The Ultimate Guide To Building A Personal Website
The above guide is all you need to set up your blog. It is a straightforward and step-by-step guide. If you didn't understand anything in that guide, you could search for that on YouTube.
If you are still not ready to set it up yourself, just hire someone who can do that for you. They will deliver your blog within a few days.
Then you just have to write and publish it on your blog. Do not worry about SEO or Keywords too much at this point. Just write. You can learn everything slowly with time.
4.1. Medium
If you really don't want a set up your self-hosted blog. Medium is the best alternative. It is clean and already has a vast audience. You just have to create a profile on it for free.
I love that platform, and sometimes I write for my Medium account too. If you could succeed in the Medium, you can earn $ with your articles, but Medium itself controls the whole monetization process.
That is the only downside of the Medium, but it might not be a problem for a beginner.
4.2. LinkedIn
Everybody has a LinkedIn profile these days, right?
Yes, I know, it is a professional social network. That does not mean you should be able to write like a pro to publish on LinkedIn.
It has an enormous audience. So, LinkedIn is also can be used as a Wordpress alternative. And the best part is publishing articles on your LinkedIn profile attracts more people into your network and opens new opportunities.
If you would like, think about LinkedIn too, but again I have to say, Wordpress self-hosted blog is the best investment and better as a long-term plan.
5. Start with what you know best
Don't even think about the things that you do not know or can't understand. Start reading and writing about what you are passionate about.
People are more interested in inspirational life stories than in any other subject in the world. It is not going to be a perfect one, but people will recognize you through your stories.
Confidence in writing grows with what you read and how much you read.
So, start with relevant articles. One lousy article can ruin all you built. So, select the blog post to read very carefully. I mentioned five well-known, reputed blogs above.
6. Nothing to lose
As a beginner, we have nothing to lose. Some professionals say writing a blog post is easier as a beginner because nobody knows who we are, and probably nobody will ever come across our article ever.
Don't think too much, and don't be hard on yourself.
If you want to be a professional blogger? Then start right away. Overplanning does not make that happen soon or easily.
7. Lack of new ideas for the first blog post?
Every professional blogger admitted that they were at this exact same point in their lives. New ideas come with experience. So, without start reading and write, ideas will not flow.
Here are some great blog posts to find a new idea for your first blog post.
8. Focus on the process
Instead of focusing on the outcome or the results, you should focus on the process. No rush. Take a deep breath and start writing.
Take your time. As a beginner, you'll spend days writing and editing. No problem at all. You should focus only on the process until you build your writing confidence.
With time, you'll probably be able to speed up the process.
9. Plan your content
I didn't know about this when I started writing my first blog post. But, when I published a few more, I knew that I should plan the article before starting to write.
Take a pen and paper or your mind mapping software or whatever you like, and write down your topic and subtopics.
Plan what you want to write under the introduction and each sub-topic. The conclusion is another important part many bloggers do not concern about.
The conclusion part says what the real purpose of writing your article is. So, do not forget to add a conclusion section in your first content planning process.
When you have done writing all the topics and main points, shuffle and organize those to get the most sense.
Note: Don't forget to PIN the image below.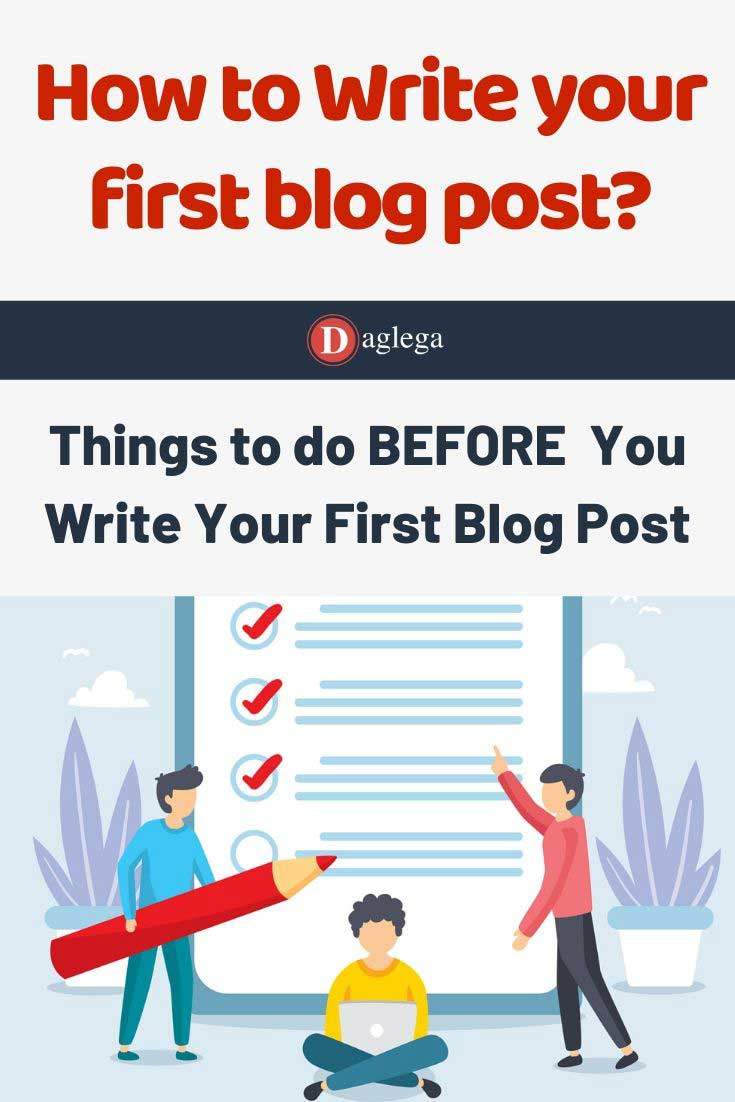 I bet you will probably start writing on your blog very soon. Do not forget to bookmark my blog and come back. I will post two articles on daglega.com every week.
If you have tried any of the above tips, or have any other suggestions for newbies, feel free to share them with us in the comments section.