Everybody wants more Twitter followers, right?
Within the last few months, Twitter was not the best social media platform to focus on because Twitter's marketing potential in the early days was fading due to different reasons.
One of the major problems was Twitter has the most substantial number of fake profiles among all the other competitors.
So, more Twitter followers mean nothing today, but it was an influential factor early.
If you still want to do business with Twitter, be serious about attracting actual human, engaging, and niche-specific followers.
The good news is that Twitter has decided to remove fake and suspicious accounts aggressively.
They should have done that years ago. It is at the worst stage now. However, finally, they did the right thing.
Twitter is coming back stronger than before. I'm pretty sure about that.
Instagram is making the news these days, dominating the social media world. Instagram can never do the things that Twitter can.
They have unique qualities. So, my advice is, do not give up on Twitter yet.
I have been writing an article on how I grew my Twitter followers from 0 to 135,000 for months.
It is my whole story of developing a successful Twitter account/business and is like an ultimate guide for beginners in attracting more Twitter followers.
That article is getting longer every day, but I do not want to write more than 3000 words per article, no matter what.
So, I decided to publish the best Twitter tools I have been using the whole time to gain more Twitter followers as a separate article.
Usually, beginners type on Google "How to get more Twitter followers fast" and click all the links on Google's first few pages, right?
Yes, I know because that is what I did as a beginner about eight years ago.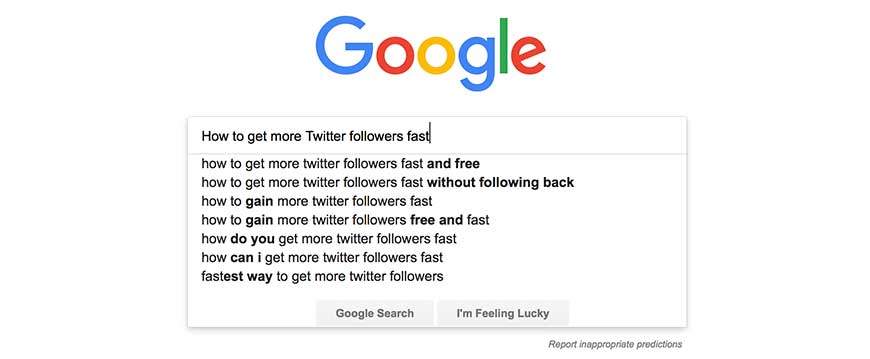 I can't think of any other social media platform which gives access to many third-party tools like Twitter. I still don't understand how Twitter does that.
So, my advice is, don't try all the tools in the world. Most of them are trash and damage your Twitter profile and impression.
Some popular Twitter tools grow your account very fast, but almost all the followers are fake. I have tried those as a beginner and ruined my profile several times.
With my eight years of experience in Twitter management, I can quickly name more than 30 Twitter tools here, but I intend to give you only the best tools.
That is why I picked only these six tools.
All these six tools have free versions or at least a one-week trial period. So, you can try all these tools before you purchase the pro versions.
You are responsible
One more thing before going right into the list. These third-party tools enable various features, but you should understand how to use those features firmly.
Twitter was going through a tough time, and they are in the process of cleaning the platform.
So, you must be very careful while growing more Twitter followers, especially when using automation tools.
If you have done things that violate Twitter rules, your profile might be suspended right away. Then you have to take responsibility for your misbehaving, not these tools.
In January 2019, Twitter removed API access to many third-party apps to protect the platform from spammers.
So, most of the features/filters, such as following and unfollowing in bulk, do not work right now. Most probably, those features will not work ever again.
However, still, tools that I am going to explain have some great features, and they have added some new features which you could use to up your social media marketing game and gain more Twitter followers.
All these troubles are for the greater good. So, don't worry.
Even if you couldn't grow your Twitter followers as quickly as before, there is a silver lining; now, the probability of getting niche-specific and active followers is higher than before.
1. Owlead
Owlead is a platform to automate the following process and gain targeted and genuine Twitter followers. So, this one is the best.
The magic of the platform happens behind the scenes with smart and custom filters that let you narrow an audience based on the following:
Keywords in bio
Language
Localization
Gender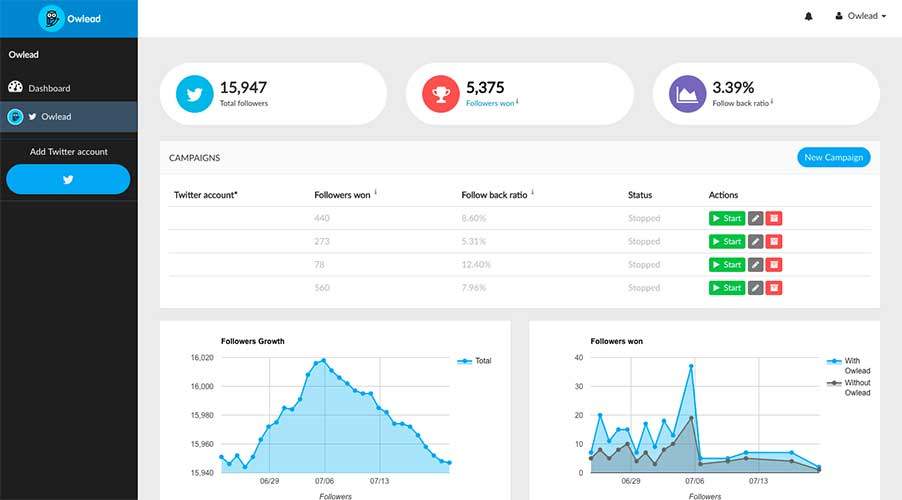 After narrowing your audience, Owlead will start following (and unfollowing when necessary) 50 users per campaign from your audience on autopilot. You can configure from 1 to 5 campaigns.
I have been playing around with the platform and gained 685 new followers in 8 days; really amazing, huh!
The platform also has a dashboard with relevant data on your recent activity:
Followers growth
Gained followers with and without Owlead
The interest of your followers
The quality score of your followers
and more…
Owlead has a neat 10-day free trial demo, go ahead and try it out and make your conclusions about this Twitter growth tool. After the trial period, you'll have to pick a plan from $29 to $199 per month.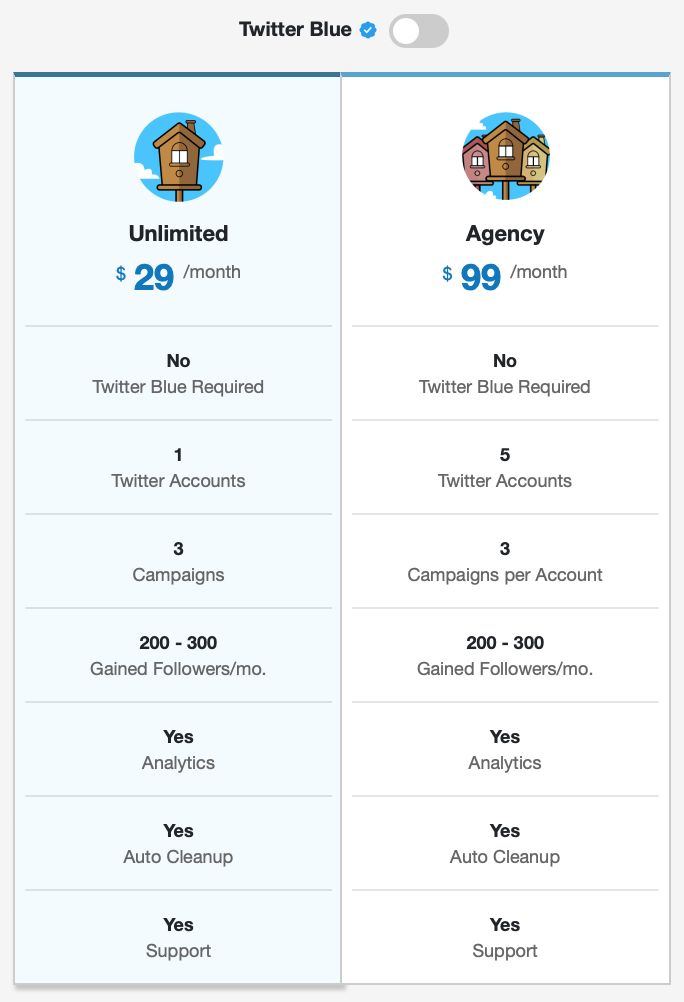 2. Crowdfire
Crowdfire is my most-used tool to gain more Twitter followers. It has a user-friendly interface, and the Crowdfire mobile app is cool and comfortable to use.
It had all the features, such as following and unfollowing non-followers, etc., earlier. As I mentioned, all those features are removed because Twitter forced them to do that.
So, if any tool provides those features, they probably violate Twitter rules.
My advice is don't use those bots. You won't be able to recover your account if they've been suspended while using those. They mentioned that very clearly.
The below screenshot is just to show you those removed features.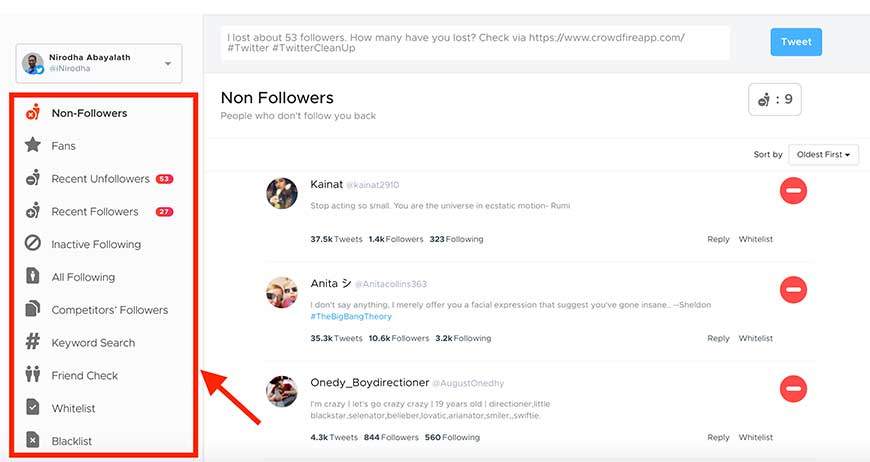 Now Crowdfire has added even better features. Even the Crowdfire Plus plan (the cheapest plan) now allows you to link 10 social accounts.
Some great newly added features are, now you can schedule social media posts (Crowdfire even suggests content to post on your social media based on your interests/topics), schedule posts in bulk, add and manage team members, track your @Mentions, reply to those mentions right within the Crowdfire app.
The most important feature is social media analytics.
You can spend less time digging and more on marketing because of all the necessary post analytics, social media profile analytics, and competitor analytics in one place.

Isn't that great? You just don't have to browse through different apps or websites. All the necessary social media management features and analytics are here on Crowdfire.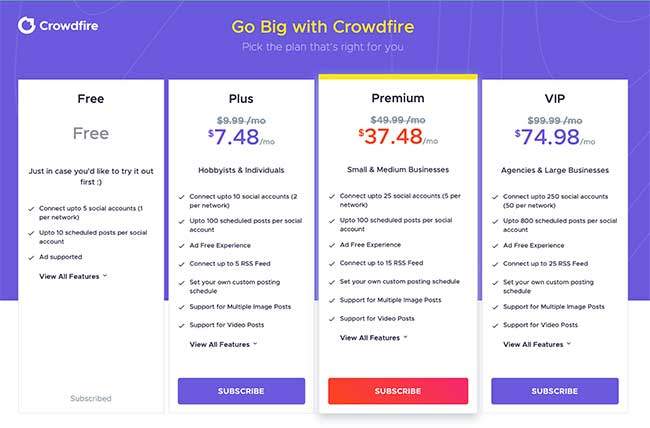 There are so many other features. I recommend Crowdfire because I have used this app for years and got the best results.
3. ManageFlitter
ManageFlitter also had similar features to Crowdfire, and some of its in-app features were also removed by Twitter.
Below, you can see the removed features.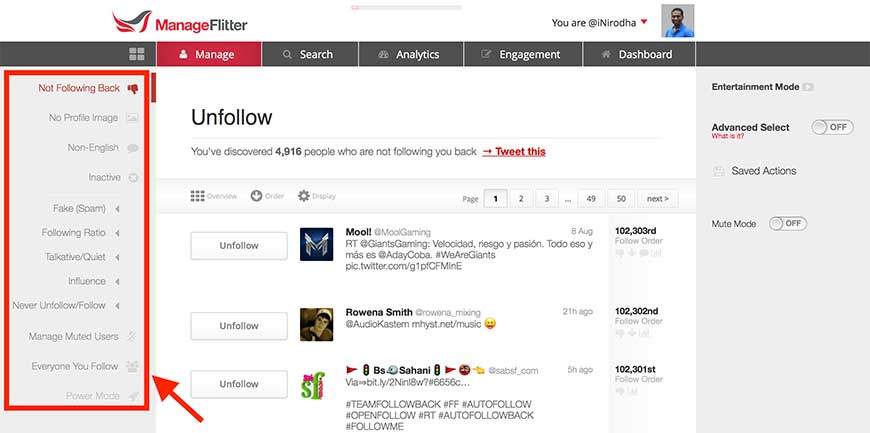 However, you still can find some great features, such as cleaning Fake/Spam followers from your Twitter.
I use ManageFlitter to clean (unfollow accounts) my Twitter accounts because filters such as no profile image and fake and inactive work more sleekly than any other tool.
Even if the Crowdfire and ManageFlitter features are pretty much the same, the behavior of the filters and the Twitter growth rates are slightly varied, according to my experience.
ManageFlitter offers advanced analytics and unique features such as "PowerPost" to gain maximum exposure to your Tweets.
If you manage several Twitter accounts from your clients, consider pricing and the different features these tools offer.
Sometimes, combining two tools works better for running clients' accounts.
Unfortunately, now they don't offer this Free plan, but you'll see that Pro and Business plans are the best for this price.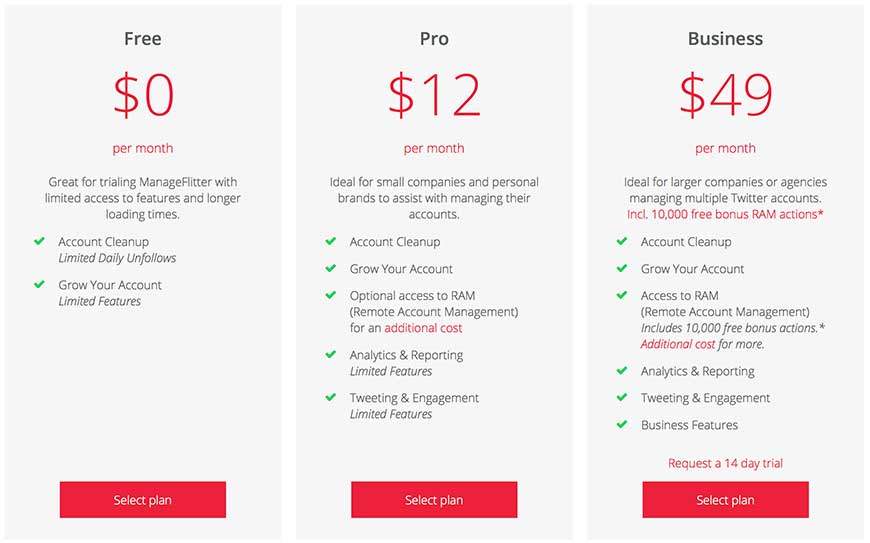 4. Tweepi
Tweepi is one of the best tools to grow more Twitter followers fast. Honestly, everything began with this fantastic tool for me a few years ago.
Unfortunately, I can no longer use the free version of this because I have already exceeded their limit (60,000 followers is the limit).
It is a tool that offers you follow and unfollow options with a wide variety of filtering options you could not find anywhere on the internet.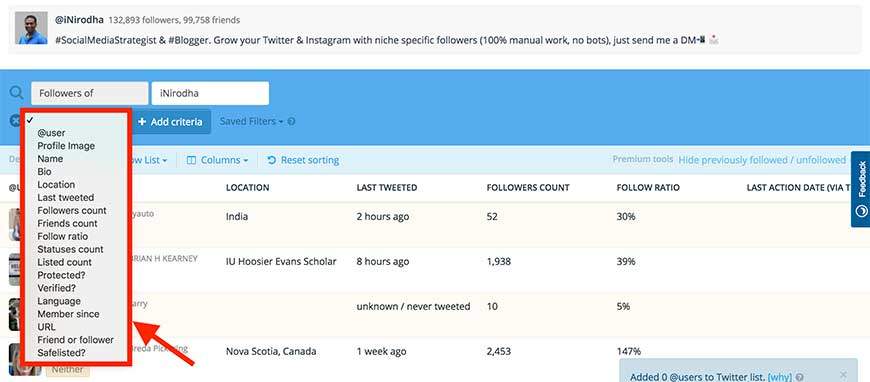 You can find the best accounts to follow by filtering by location, language, follower count, follow ratio, etc.
However, following new Twitter accounts is a two-step process now. You can no longer follow filtered profiles directly via Tweepi because of the changes made to Twitter API in 2017.
The "Follow" button has now changed to "Follow List."
When you have clicked the "Follow List" button, that account will automatically add to a private Twitter list.
Go to your Twitter account and find the list named "tweepi-pending-follow." Then follow the list of members curated by Tweepi.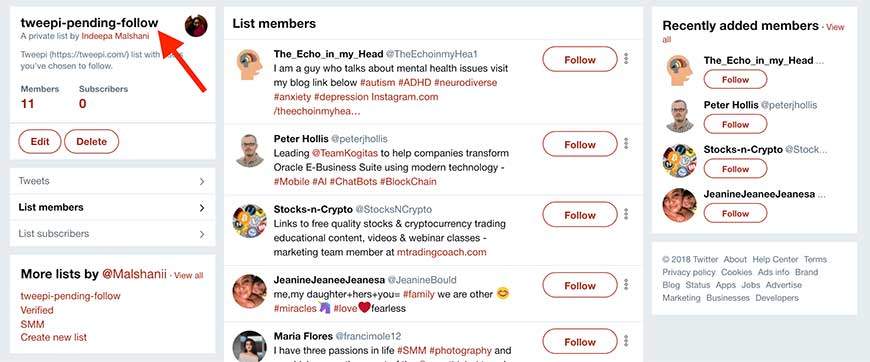 Yes, it is a little annoying, but what other options do we have? It is because of Twitter itself.
So, we have to satisfy with that because at least we can still curate the best accounts to follow.
Unfollowing accounts that do not have a good bio or profile image has never been this easy. So, with Tweepi, you would gain more Twitter followers (engaging and niche-specific followers) while maintaining a healthy account with no fake followers.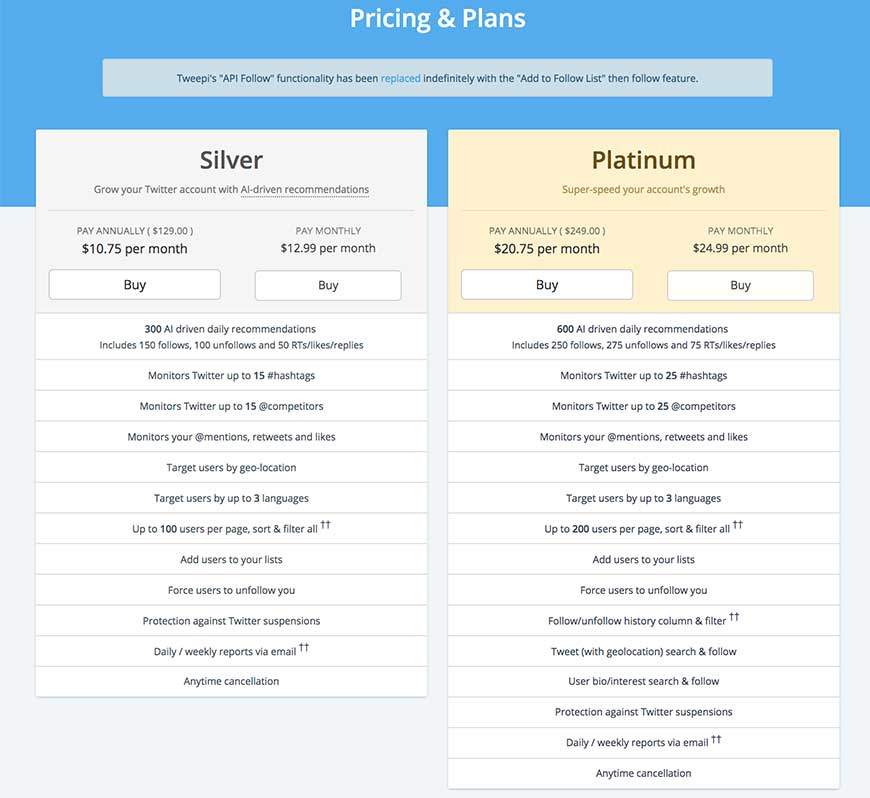 5. Buffer
To gain more Twitter followers, you have to post your content at the right time of the day. If not, your target audience won't see your Tweets.
Buffer helps to schedule our Tweets to get the highest exposure and engagement according to our niche and the audience.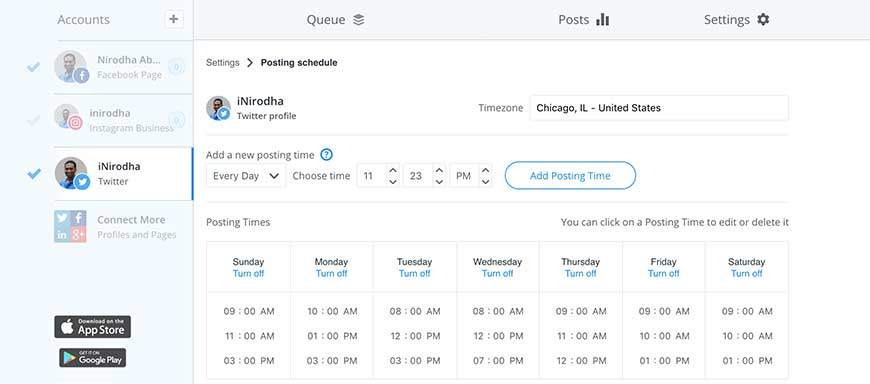 If you want to gain more Twitter followers fast, consider scheduling at least five daily tweets using Buffer. Ten is always better.
Buffer offers a browser extension to schedule content on your social media from the internet. You simply have to click the extension button when you have come across a worth sharing content.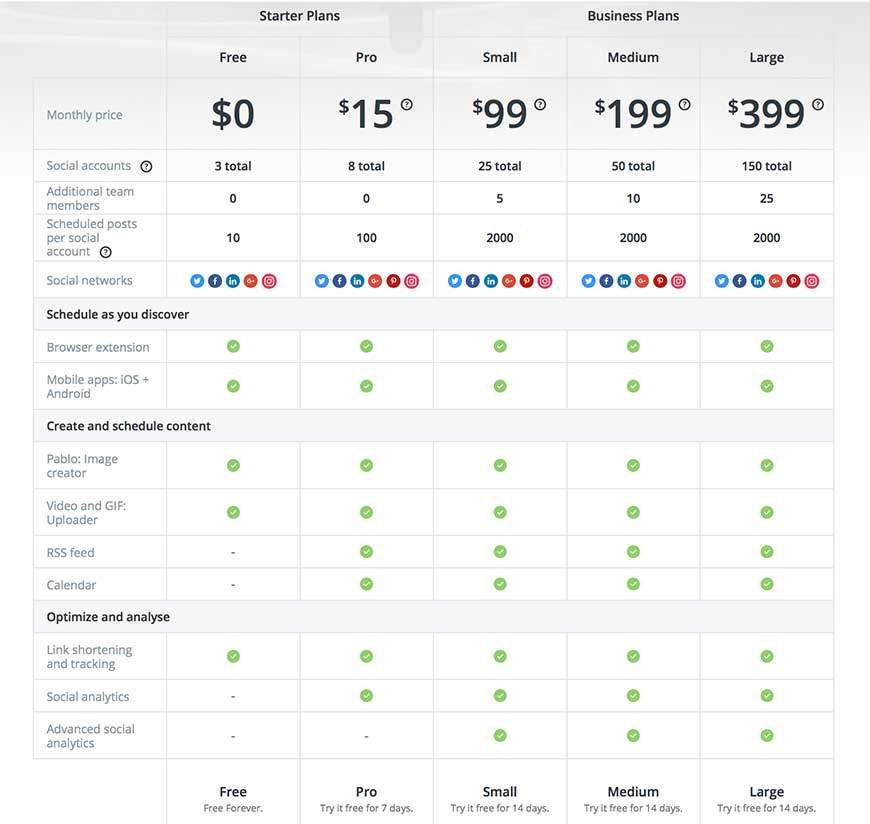 6. Hootsuite
As a social media marketer, I can't think of any other better and more complete social media management tool except Hootsuite.
If you are a serious social media marketer or you want to enhance your marketing strategy, Hootsuite is the best.
Unlike any other Twitter management apps, you can manage more than one Twitter account via Hootsuite's web dashboard.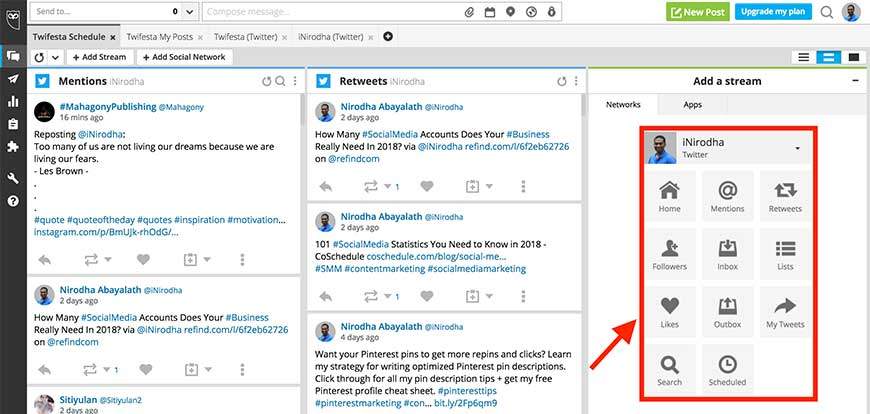 When you gain more Twitter followers with time, it becomes difficult to reply to comments, Twitter DMs, and respond to mentions.
So, with the help of Hootsuite, you can effortlessly manage all those crucial tasks to gain more Twitter followers right within the dashboard.
That is why Hootsuite is one of my favorite apps as a social media marketer.
Hootsuite offers a Tweet scheduling option and also a browser extension, but it is still buggy and not as convenient as Buffer.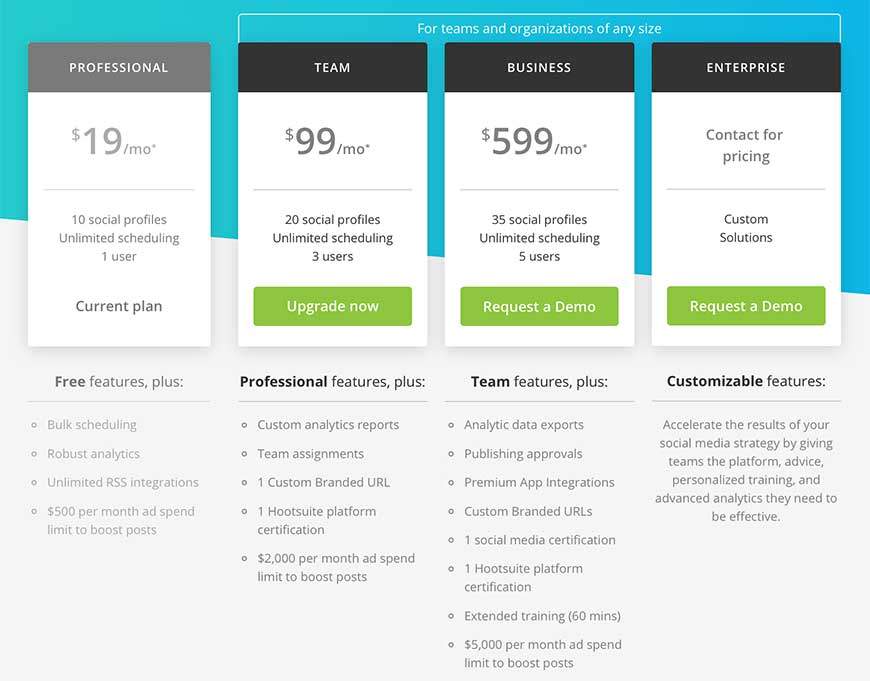 Bonus tools to gain more Twitter followers
I have added these five Twitter tools as a bonus. So, now you have a complete list of tools (11) to gain more Twitter followers quickly.
Don't waste your time by browsing the best tools to grow your Twitter again.
7. IFTTT
IFTTT did not exist when I started growing my Twitter account, but when it hit the ground, I couldn't live without it. It saved hours from my daily schedule.
IFTTT means "if this, then that." They have derived it from programming conditional statements.
It is a fantastic and purely simple automation platform. You have to link your social media accounts (you can connect software, devices, and services also), and they offer thousands of automation options.
The automation is enabled via "Applets," which connects multiple apps to run automated tasks.
You can use ready-made Applets for your automation or create your applets. Using the IFTTT website or mobile app to manage your Applets is very convenient and user-friendly.
You would find so many Twitter-related Applets. Go and search Twitter Applets in IFTTT. You don't know that you need those Applets until you see them.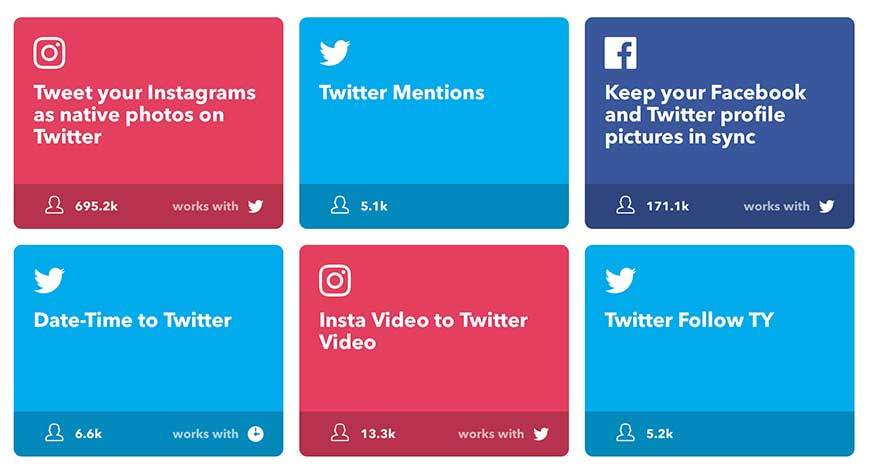 I use IFTTT Twitter Applets for,
Add specific Twitter accounts to Twitter lists
Share Tweets from a particular user on my Twitter profile
Post Pinterest pins (from a particular board only) on Twitter
Add Instagram videos to Google Drive
Share my YouTube videos on Twitter
Share my Tweets on Tumblr
Tweet my Instagrams as native photos on Twitter
Share Instagram videos on Twitter
Share my Tweets on LinkedIn
Tweet and thank people who mentioned me on Twitter
Share my blog posts on Twitter
It takes less than 30 minutes to set up all these Applets for your Twitter.
8. Twitter analytics
Even heavy Twitter users still don't know about Twitter analytics and its power. People are always looking for third-party tools for analytics.
You don't have to.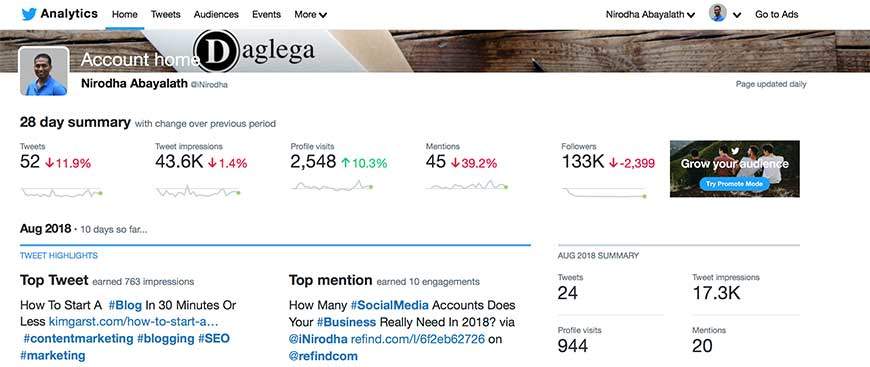 Your Twitter account has its advanced analytics option embedded. If you want to gain more Twitter followers, you have to go through your Twitter analytics.
Everything you want to know about your audience and activity is there. Master your Twitter analytics, and see what you have to do next for better growth.
9. TwitterAudit
TwitterAudit is a pretty simple tool. It analyses your Twitter followers and shows how many Real Followers and Fake followers are in your account within seconds.

With the results of this tool, you can optimize your strategy to gain more Twitter followers.
Now you can block the fake followers by purchasing their Pro version. But, as a beginner, don't worry too much about fake followers until you do not practice spammy techniques to gain followers.
10. Refind
I feel like Refind should come as the 7th must-have tool to keep your Twitter alive (and other social media accounts too). It is important as that.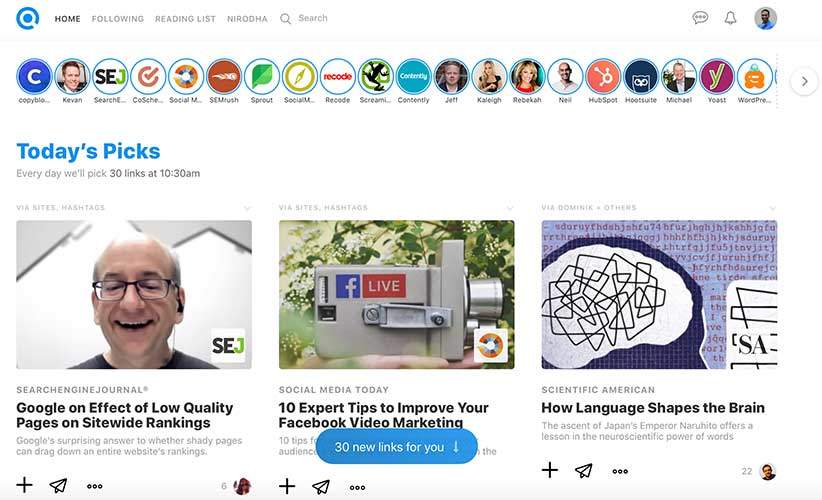 Let me explain how I do that, and you just have to follow these straightforward steps. First, create an account on Refind using the above link (we both get referral coins if you have used the above link for free).
You can fine-tune your account by going here and there. Create some "collections" so you can add your links to those collections and browse through those saved links easily.
Then install the Refind browser extension (Safari, Chrome, and Firefox only). Now you are all set.
When you have come across an article, website, or hashtag worth sharing with your followers, you just have to add those to your Refind account by clicking the browser extension.
You don't have to post those on your social media while you are reading. I usually add my links, and later I open my Refind iOS app and schedule those for Twitter using Buffer or Hootsuite apps.
In this way, you can share not only saved articles on your browser, but Refind also suggests some great posts according to your interests. Isn't that great?
As I said earlier, sharing great content is necessary to keep your Twitter alive and grow followers quickly.
11. WordSwag
Pro-looking graphics are essential to gain more Twitter followers because tweets with high-quality graphics get more comments, retweets, and likes.
WordSwag is the best mobile App (monthly premium subscription plans available) for creating amazing graphics content. I create all my Instagram and Twitter quotes with this app.
It provides beautiful custom text layouts and quotes, and you can search for copyright-free images without even leaving the app.
It usually takes a few taps to create your post and upload it to social media. I couldn't even do that playing for hours with Photoshop.
 

 

View this post on Instagram

 
12. Canva
Canva is another tremendous graphic design tool for all. Don't worry; you don't have to have any graphic designing skills to use it.
It has beautiful layouts. You have to place your images and words on the grid.
Canva mobile app is not as easy as WordSwag, but it has many other advanced features that WordSwag does not have.

Wrapping up
Even if you have used the above tools, nobody can ensure your Twitter success or gain more Twitter followers quickly if you fail to engage with people/influencers, share valuable content, retweet, like, and comment regularly.
I have written all about good and bad practices for Twitter before. Click here to see that article (open with a new browser tab)
You'll find how to maintain a healthy Twitter account and my opinion about following, unfollowing, automated DMs, buying Twitter followers, generating fake followers, Twitter chats #hashtags, and other big things you should consider.
I have about 130k genuine Twitter followers on my account, and I don't have any secret recipes.
I just used these tools and engaged with my followers. So, you definitely can do that better than me.
Do not worry about the number of followers on your account right now. It doesn't matter. You'll see the difference when you find the right tool and strategy.
Note: Please don't forget to PIN the image below.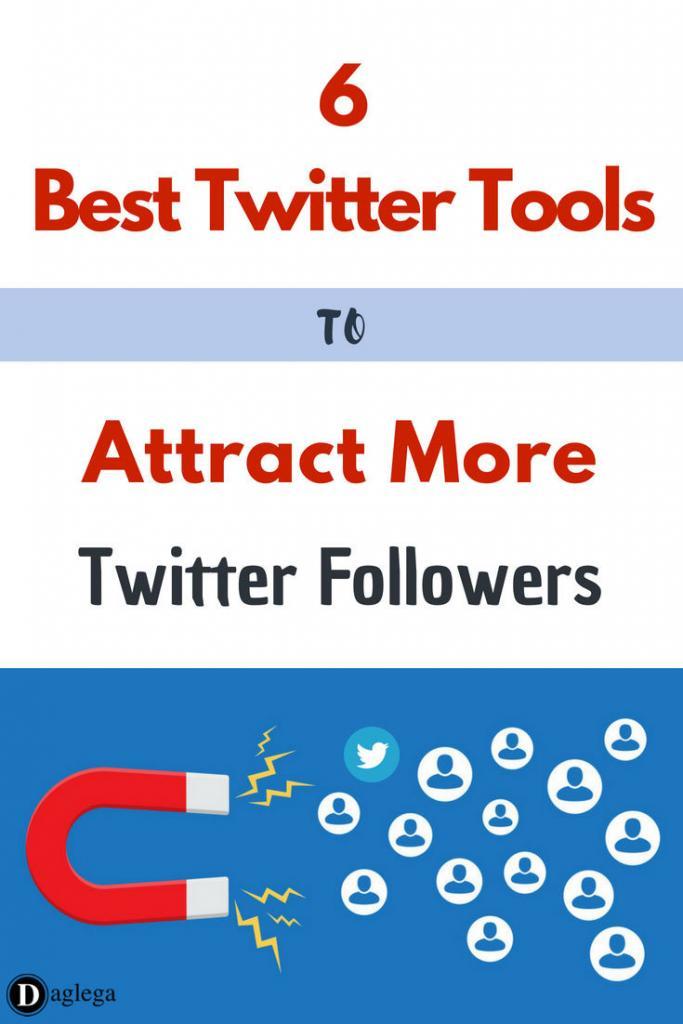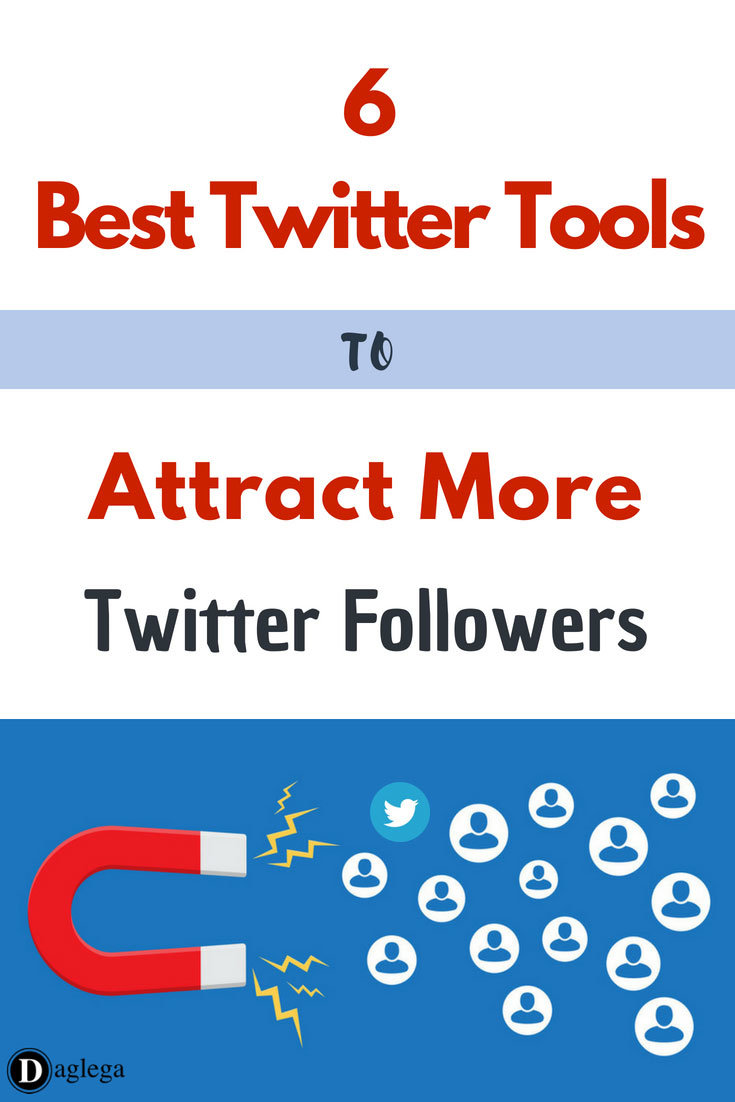 ---
Frequently asked questions (FAQs)
Here are some frequently asked questions regarding growing Twitter followers quickly.
How can I get 1000 followers on Twitter quickly?
As I said earlier, how many followers you have is not the thing to worry about. But, if you still want to get your first 1000 followers fast, you must have a good strategy. Follow these tips, and you'll get your first 1000 Twitter followers in no time.

# Use the above tools (at least the first 6) wisely from the very first day.
# Use only a high-quality profile photo and cover
# Tweet valuable links, especially with embedded images
# Tweet funny GIFs
# Use trending and relevant #hashtags
# Tweet regularly (5 tweets per day is enough)
# Tweet at the best times (use Buffer or Hootsuite to find the best times)
# Join Twitter chats
# Respond to others' Tweets on relevant topics
# Follow new accounts in your niche (but don't do it aggressively)
# Follow influencers in related niches
# Follow back your followers
Can I make money with Twitter?
Yes, of course, you can earn money from Twitter. Marketers/bloggers use different methods to make money with their Twitter profiles, such as,

# Sponsored Tweets/ Paid Per Tweet
# Promote Ads on Twitter
# Generate traffic to your website
# Build an email list and promote products/services
# Affiliate Product promotion on Twitter
# Sell your own products via Twitter

So, you must create a killer Twitter profile with genuine and engaging followers. Then you'll see that there are so many opportunities to earn from Twitter.
Is it OK to buy more Twitter followers?
No. It is not OK.
It might not have been the worst idea a few years ago, but it is now because Twitter is changing, and they have already removed many fake profiles.
If you just want to waste your money on a bunch of fake followers, go ahead. It is quick, cheap, and you could look huge. It is temporary and
FAKE
.
But, in the long term, buying fake followers will look bad and destroy your profile/business. So, grow your Twitter followers with the above Tools and tricks genuinely.
Read this to learn
5 Ways to Ruin Your Twitter Profile
.
Do you know any other impressive Twitter tools to add? Let me know in the comment section below.