Think as you want to swim. You will not learn to swim until you jump into the pool. You will not understand the depth of the water until you jump right in, or you will not have the joy of a good swim until you swim.
Yes, I know it is scary and challenging, but one day you'll thank yourself for taking the risk. Treat writing the same way you swim. You have to take the risk and jump right in.
Writing tools
I have been trying so many writing tools to find the best. That is all. End of the story. I did not write a single word because I was not satisfied. My mind said, find the best. This is not good enough for you to start.
That is how tricky our minds. It plays with you and finds reasons not to start writing. Find reasons to procrastinate. You have to get to know your mind and don't give any reason not to write right now.
Here, I want to recommend you just two unique writing tools. That is all you want for any writing, such as script, novel, screenplay, blog, or academic writing.
With my "app testing" experience for years, I could have recommended dozens of writing tools, but these two writing tools are more than enough for beginners.
Scrivener
Scrivener is the first tool I want to recommend, which was created by a company called Literature and Latte.
I use Scrivener as a word-processing app for all my writing, but most people use Microsoft Word or Apple Pages. I am not saying that Word or Pages are bad. Those are excellent, but not enough for beginners like you and me.
When it comes to an expert writer, it does not matter Word or Scrivener or paper and a pencil.
We will also be able to do that when we practice writing. But, until that, we must stay focused and find every little trick to keep our minds focused on writing.
Usually, when we want to write something, we go to the computer and open Microsoft Word, right?
Your brain already feels how annoying things you are going to do. The brain knows every experience you had with Microsoft Word. So, hesitation for writing has already begun.
Sometimes, you don't even know the reason, but just after you've opened the Word, you don't want to do anything on the white surface. Mind says, sleep, play a game, or watch Netflix.
That is why you need something new such as Scrivener.
The latest version, Scrivener 3, is $49 for Mac users and $45 for Windows users, but if you have purchased the Scrivener 2 already, you can upgrade with the discounted price of $26 (45% discount).
And, of course, it has an educational license for students and academics. It is expensive. I know, but it is a one-time payment, and I consider it a great investment. You will not regret purchasing this. I can promise you that.
Scrivener offers free 30 days trial too. It allows you to work on the full version for 30 days. If you use it for only two days a week, it lasts fifteen weeks. Honestly, I have never heard a trial version works this way.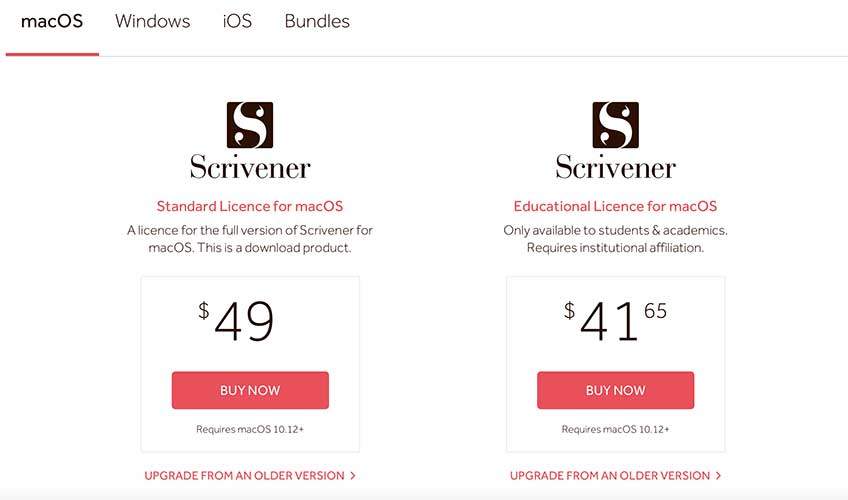 The most important feature of the Scrivener is you can manage all your different projects, chapters, articles, research, notes, pdf, screenshots, and everything you want in a single dashboard.
It has a binder on the left side of the panel, and everything is organized there. Scrivener is a virtual binder that is easy to use.
You know how hard to do this in Microsoft Word. To find something, you have to browse everywhere on the computer. So, Word complicates things for you.
I do not want to talk about all the great features it has. If I do, I will have to write at least 5000 words. Just try this fantastic writing tool.
Grammarly
The other unique and must-have writing tool is Grammarly.
I have mentioned this several times in this blog. Again, I want to tell you that I do not speak or write perfect grammar.
So, when I started writing, one of my worst fears was grammar errors. I didn't want people to see my grammar and spelling errors.
Grammarly helped me to overcome that fear. It is not just a grammar and spelling checker now.
Grammarly has recently introduced so many new features, which are pretty amazing. Those features are far better now than a few years ago.
The best thing about this tool is it has both free and premium versions. You can install Grammarly browser extensions on Safari, Chrome, and Firefox. It also offers a desktop app and add-on for Microsoft Word (only for Windows yet).
I don't want to describe all the great features. Just go to its website, and you'll see.
I am probably still making some grammar errors in my articles, even with Grammarly in action, because it is not perfect. But it helps me develop a daily writing habit and write confidently.
That is why I invest in the premium version without any hesitation.
Plan ahead
Even if you have all the necessary writing tools, you must do a few more things to make writing exciting and develop it as a habit.
Before you go into bed at the end of the day, open and pin at least two blog posts onto your browser that you want to read and enjoy.
Make sure you select those blog posts from your area of interest and obviously from the best bloggers, not the most prominent bloggers in the niche.
The following day, right after you get out of bed, go to your computer (with tea) and start reading those pinned articles.
Then open your word processing app and start writing. Just write. If you couldn't think of anything to write, type "I wanna become a writer" and write it 100 times. That is about 500 words, no?
Or rewrite one of the articles you've just finished in your own words.
Do not laugh. It helps. We want to move our fingers on the keyboard until our brain is ready to write.
Wrapping up
I want you to use these unique writing tools, at least the free/trial versions. Then you can decide on your next move.
This article is not just to promote these apps or make affiliate sales. Those are all secondary. My primary goal is to help beginners like me because I remember struggling to write my first article for years.
I wrote about my writing fears and how I defeated those fears and wrote my first article. I believe that you would find that article appealing.
Here it is; How I defeated fears and started writing my first blog post?
If you have any questions regarding these two writing tools, please let me know in the comment section below or contact me. I will answer all the questions within 24 hrs.
Featured Photo by Orest Yaremchuk