I have been running my own business for the past 10 years. With the experienced gain, I can tell you that email marketing tactics such as email subject lines are very important for communicating with your customers.
If you are already operating in the business field for quite some time, I am assuming that you are already aware of this.
Just using email marketing tactics won't be of any help, if you are not getting any success at it. That brings me to the question are you successful in your email marketing?
Those of you who have got the game right may find success. However, for the ones who are yet to figure it out may still be struggling with it.
Let me help you guys. You see the problem with email marketing starts when your customer never opens your mail. What's the problem?
Well, it all comes down to the subject line of the email.
If you thought subject lines are not important, you couldn't be more wrong than this.
According to statistics, around 60% of the customers decide to open the mail seeing the subject line.
Whereas approximately 75% of your customers may think your mail to be spam and straight away delete it.
This should actually tell you the importance of a subject line in the mail.
If you want your customers to read your emails and generate more clicks, you have to excel in the process of creating the perfect subject line.
Overall, you need to understand the importance of email marketing.
Now let's look into some of the tips that can help you frame the perfect subject line and produce more clicks for you. Going through these tips should actually help you.
1. Email Subject Lines Create Curiosity
Humans are curious creatures. If your customers get interested in your mail, they are sure to open it.
All you need to do here is pick your customer's interest. This needs to be done with the help of your subject line. But how do you create an exciting subject line?
You should not make the mistake of giving away all the information at once. This is the biggest mistake to make. Your aim to tease your customers and leave them curious to know more.
If you can get this right, half of your battle is won right here.
Let me give you an example so that you get a better idea about what I am saying.
Say, you are to promote your blog through email, so you send the link of your blog to your recipients. Let's assume that your topic is 'Women Are More Active On Social Media.'

What should be the subject line for this topic? There are two possible options. 'Who is more active on social media? Men or Women?' or 'Women are more active than men on social media.'
Try to understand the difference between the two subject lines.
In the first one, you are not letting out all the information. Rather you are leaving your audience with a question. This will create curiosity in your customers to know more.
Whereas for the second one, you are already revealing your customers the answer to your question. These type of subject lines will fail to pick the interest of your customers.
By picking the interest in your customers, you have accomplished a few things, including:
Increase in click-through rate
Improve your open rate
Driving more traffic to your site
Increase in conversation rate
This is actually the best email marketing strategy for you to use. Treat your subject line like the movie trailer. Give the preview so that your customers know what to expect.
2. Email Subject Lines Including Free Offers
Want to get the attention of your customers? Send them free offers and promotions and watch your customers getting all excited!
This is one of the best ways to pick interest in the minds of your customers. Not just that, but it also makes them happy too.
However, most businesses hesitate to use the word 'free' in their subject lines as it may get detected as spam.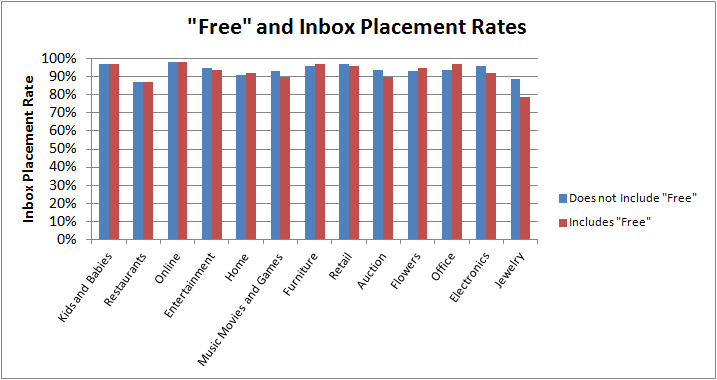 For the record, no such data is supporting this theory. There is nothing to worry about. You can add the word 'FREE' in all caps lock.
This will help you to catch the attention of your customers. Giving away free items on purchase also encourage your customers to buy more from your website.
Promotions are considered to be one of the best ways to retain your customers.
Apart from producing more clicks, there is one more reason why you should give away free items via email. The reason is simple. Email marketing is not expensive.
Email marketing is considered to be highly effective and therefore, it is worth the investment.
If you ask me, I rely heavily on email marketing and also on various tools for email marketing for the promotion of my website and I would suggest you do the same.
3. Touch of Personalization
Another effective way of approaching your customers is to get personal with them over emails.
This will help you to gain their trust and build a long-term relationship. Now let's take a look at how personalized emails affect your marketing tactics.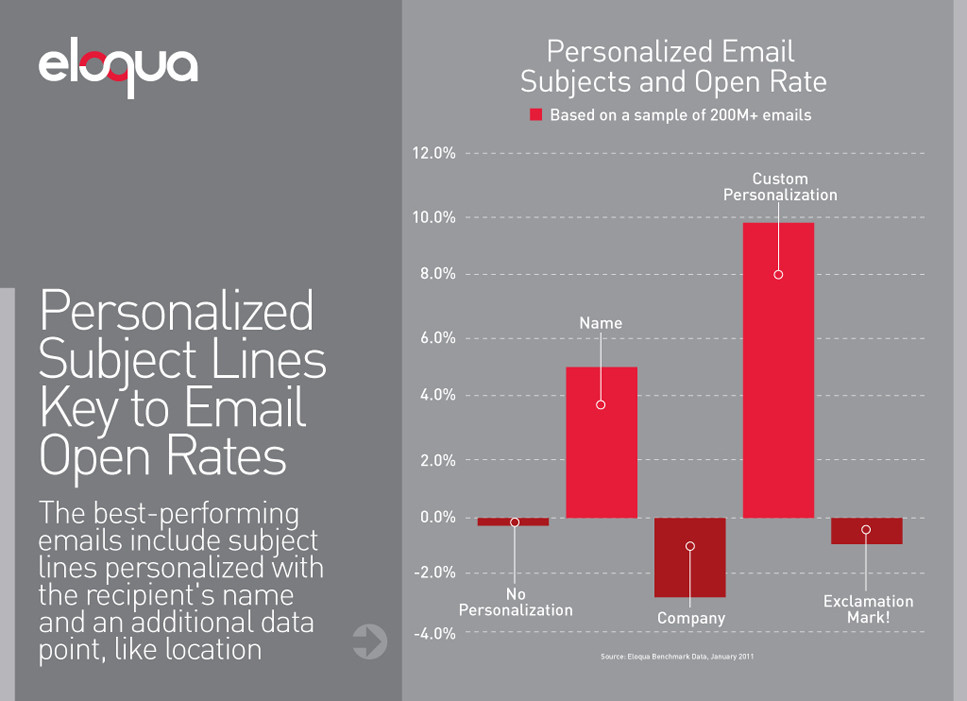 Personalized emails can get you two things:
Increased conversation rate
Improved click-through rates
As a marketer, your aim should be to improve both the figures. This can be done by personalizing your email subject lines.
What you can do is address your customers by their names. You can even try other ways of addressing your customers too.
Some examples:
Location
Relationship status
Transaction history
Browsing history
Birthday
Make use of a recent purchase to follow up with your buyers.
Personalizing the email subject line will help your customers to realize that the mail was meant solely for them and not for the whole mass. This will make them feel valued.
This personal feeling between the customer and the business is crucial. This is exactly what you should be aiming for when you send out personalized emails to your recipients.
This is sure to leave an impact on your customers and thus, you will be able to generate more clicks.
4. Recent News Topics
People are always up for breaking news and therefore, this can be an excellent option to pick their interest levels. However, you need to be relevant at the same time.
For example, you run a local eCommerce business.
You need to come up with a story that is relevant to your business. Like there is a new coffee shop in the town. Tell your customers the best way to get rid of coffee stains.
You need to be creative. The more creative you can get the better it is for you.
Email is considered to be the second most popular source of news after television. So you should be making good use of it.
However, with the news trends taking over the digital platforms, it may take some time for the email campaigns to catch up. But that doesn't mean that you will not try this method at all.
Also, don't forget to use the words, 'breaking news' in your subject line. This is for the effect.
5. Including Events and Announcements
You can also send business announcements to your customers as well.
If your company is taking part in or organizing any event, you should let your customers know.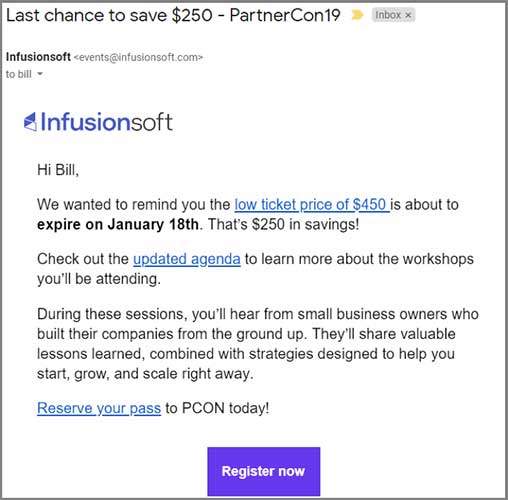 For example, you can use the subject line, '2 Free tickets. You are invited to join us!'
This will gain the attention of your customers and thus, they will end up click-open the mail.
You don't have to organize for physical events for this if that is what you are thinking. You can even create events online.
All you need to do is announce the event in your subject line. This will help you to stimulate curiosity in your customers and also promote a sense of urgency in them.
I believe this is an effective way of generating more clicks for your website.
Over to You
With the help of these guidelines, I believe you should be able to do well with your email marketing tactics.
Here is some motivation for you from the marketing experts.
"Email has an ability many channels don't: creating valuable, personal touches- at the sale." – David Newman.

"Personalisation- it is not about first/ last name. It's about relevant content." – Dan Jak.
Hopefully, the points that I have mentioned are clear to you. Make use of these tips for your benefit and generate more clicks.
Email marketing is an essential form of marketing tactics that you can use. If used correctly, it can prove to be immensely beneficial to you.
All the mentioned tips are effective ones. I assure you, I myself follow these guidelines for the promotion of my website.
If you think this article is helpful, share it so that others may also learn to use the right email subject lines to generate more clicks.
Note: Don't forget to pin the image below.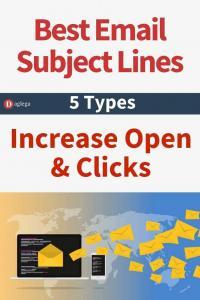 This is a guest post by Bill Acholla, founder of billacholla.com and follow him on Twitter. If you would like to write a guest post for Daglega, please contact us.