Social Media Managers are being framed with this question daily by their clients. Even some huge businesses are still on the fence about how many social media accounts and which are the best for them.
I had to work for years to find the correct answer.
If you really want to make the right decision for your business, you have to do your own research. It is not that far where you won't be able to do a thing without using social platforms. So, it is time to find out how many.
You might think, "Why would I decide how many or which accounts suit better for my business? Why not just sign up for every social media would work."
No, it is not going to work.
Are you tired of using social media? For me, it is a mixed feeling. Sometimes, I'm exhausted, but most of the time, I love being active on social media.
And it is my job to work on social media. I love it.
Even if you are fed up, social media is not going away anytime soon. So, you have to find a better way to stick to them and take advantage.
Nowadays, we use social media to interact with friends, co-workers, family members, and even strangers.
Yes, you definitely can live without Twitter, LinkedIn, Facebook, or Instagram, but your business can't.
Your competitors are working on social media day and night. They are building relationships, growing their network, and promoting their businesses. You don't want to see your competitors ahead of you, right?
Social media is the key to building a trustworthy brand online. So, Yes, of course, social media is still a thing that you can't ignore.
In my first draft, I put this as the last subtopic but then I decided to bring it to the top because you are mostly here to see this. Maybe this topic only.
However, you should also read the other points as well if you want to get a complete idea.
How many social media accounts?
There is no direct answer for this because it depends on many parameters, such as the business niche, competitors, audience, team size, age group, and geographic region.
Do you have time to share posts on all social platforms? Do you have time to engage with people on all social platforms?
You have so many other important things to handle. Social media is just one thing.
Being active on all social media platforms is impossible and wastes your precious time. Instead, dominate on a few (2-enough, 3-max), and doing heavy promotion on those is better.
Would you not take my advice unless I showed you some examples right?
You probably know Brian Dean's BACKLINKO. It is the best in the link-building business. He is focusing on Twitter (65.7K+ followers), YouTube (117K+ subscribers), and Facebook (16.5k+ likes) only.
Even if he used three, you'd see that he points his readers only to Twitter and YouTube from his website.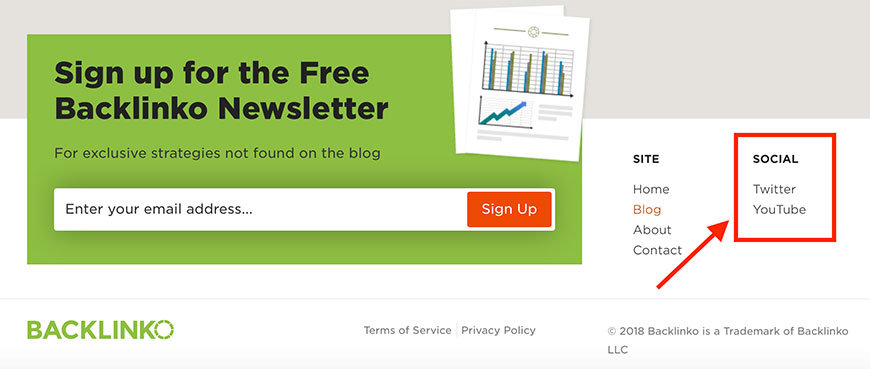 Yes, he has a Pinterest account too, but it has 340+ followers and 50 monthly viewers. Why would he waste time on Pinterest if he has done really well on the other three?
That is how we dominate on a few platforms.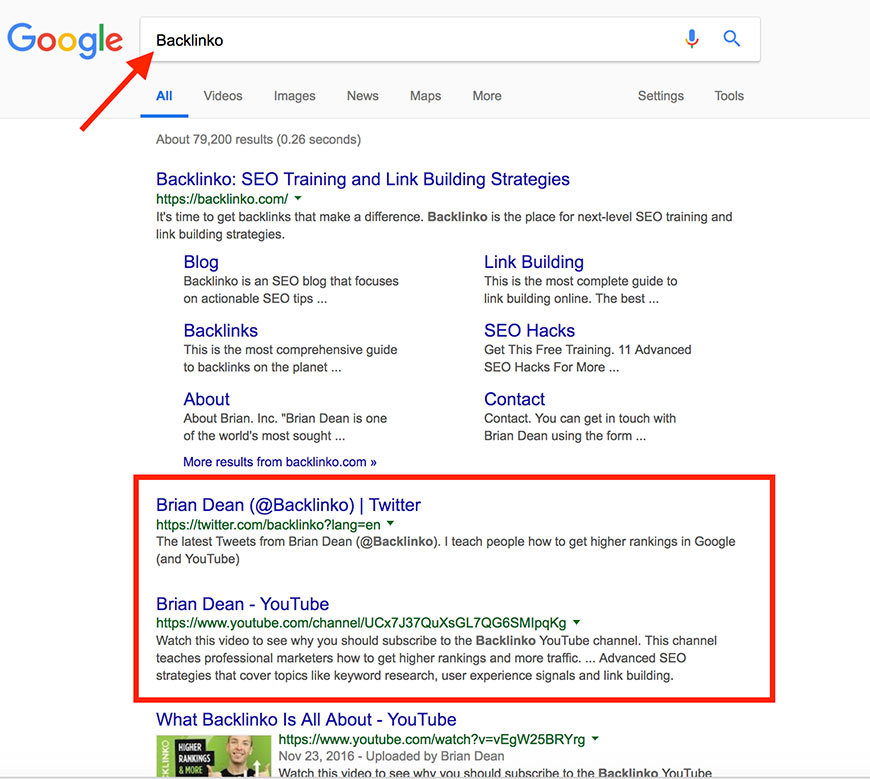 Another example is Jay Baer's Convince and Convert. He is one of the most successful digital marketers in the world. Just see his clients list. You'll have proof of his greatness.
He uses only three social platforms even though his business is huge.

Again, do not try to mimic the marketing strategy of others. It is not going to work for you. The place everyone else does brand promotion or the way they started does not matter.
Be yourself and start small. I tell this to every client of mine.
First, you should understand the real deal of social media regarding your business. If you want to focus on content, Medium and Pinterest are the best. If it is for customer support, Twitter can't be beaten.
Facebook is perfect for small businesses because you can target a particular audience while you are running a Facebook Ad campaign.
Instagram is all about photos and videos. The quality of the pictures and videos matters the most here. So, this is the best platform for visually intensive businesses.
You don't have to worry about Google+ anymore because; Google is going to shut Google+ down from April 2, 2019.
Each social media has its unique quality and purpose. Consider that before you pick yours.
We all want more people to see our posts. For that, we have to understand how social platforms behave and how the latest algorithms work.
Referring to the latest social media statistics is the key to understanding that. So, make sure you see that stat before designing your marketing strategy.
If you are still planning to promote your business on Snapchat, I think you do not become aware of statistics enough.
Because cool new Instagram Stories has already beaten Snapchat.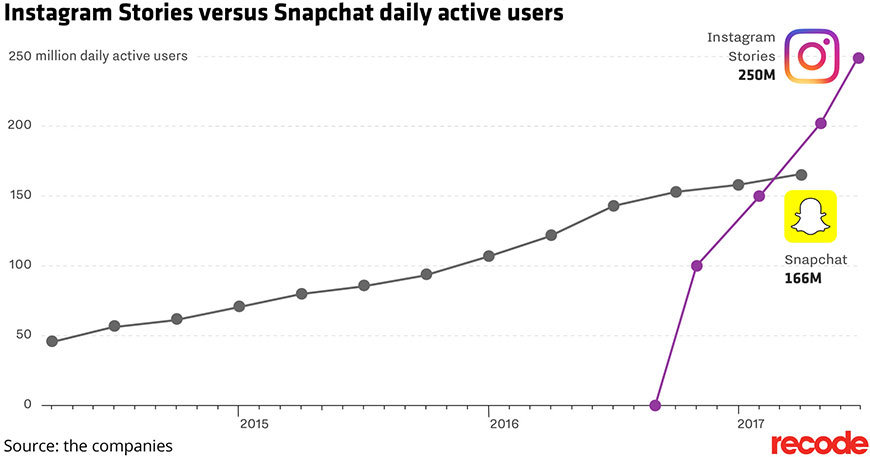 Did you know Twitter doubled the character limit? It was one of the biggest social media news in 2017.
Before picking up the best platforms for your business, you should consider these things. Otherwise, you might waste your time and money.
Start from where you are comfortable
No matter how you use social media and for what purpose. Building an audience is the thing. It definitely takes time and a lot of hard work.
I have worked for almost eight years to get 135K+ genuine followers on my personal Twitter account. So, hope I don't have to justify the time and effort I put only into Twitter. 
I only had Twitter and LinkedIn profiles at that time. Therefore, I got enough time to work on Twitter. I enjoyed gaining followers. I have tried many different tools and methods. It was like a game.
Twitter and LinkedIn were my comfortable grounds.
Pinterest may be the best for your business, but if you do not understand or are not comfortable with Pinterest, you should consider a different one.
Consistency is the most crucial factor in social media management. Consistent posting becomes even harder if you are not comfortable using your social media account. 
You don't need 10 Facebook posts, 15 tweets, and 5 Instagram posts per day. Instead, posting a single great post on each social media platform daily is enough, but you must do that every day and stick to the schedule.
Find your comfortable place and pace first. Then you can speed up the frequency if you want.
Social media is not everything
Some businesses still grow without even touching social media. I know a few businesses like that.
I knew a guy who had a profitable business. Once, I suggested him to create social media profiles and bring the business to the next level.
Do you want to know what his answer to me was? 
Hmm……! 
That was his answer.
He did not even create a single social media account and probably will not create one anytime soon. I knew it when the moment I heard his Hmm……!
But his business is growing daily, and he is satisfied with his profit. Don't take this wrong. His business could have been promoted to the next level, but it is me, not him.
Got it? Don't worry about others if you are satisfied with the place you are now or with your marketing strategy.
Some clients reach out to me and ask me to do what others do around them. They are worried. They wish they had started doing the same in the beginning. That is why I shared this little story.
Wrapping up
Social Media Marketing means building relationships and providing value to your followers. So, you do not have to be on all platforms for that.
You may be the CEO, marketing manager, graphic designer, and blogger of your business. So, you definitely have no time to work on all platforms. Select just one and do your best on that. It is enough.
Patience and hard work brought 135K+ followers to my Twitter account. A few years back, I had been targeting my clients through Twitter.
One social account worked really great for me.
Don't you want to know how I went from 0 to 135,000+ Twitter followers without spending a dime? Let me know in the comment section below, or contact me via Twitter.
Featured photo by rawpixel
SaveSave
SaveSaveSaveSaveSaveSaveSaveSave
SaveSave
SaveSave
SaveSave
SaveSave
SaveSave
SaveSave
SaveSave
SaveSave
SaveSave