''Social networks represent the digital reflection of what humans do: we connect and share'' – Jeremiah Owyang, Partner at Altimeter Group.
In this digital age, social media makes your business visible to a million eyes. Of course, you know that already!
But, for those of you who have entirely focused your digital marketing strategies on Facebook, Twitter, and LinkedIn so far – Pinterest is your think-out-of-the-box.
It's your new avenue to reach more people, enhance your brand, and grow your business successfully.
Why?
According to a study, Pinterest has nearly 300 million users per month, and it is a platform that drives more traffic than YouTube, Google+, and LinkedIn combined and is only second to Facebook.
It's no secret that Pinterest, over time, has managed to make its way through and emerge as a better alternative for its giant rivals.
A study has found that internet users regard it as a better platform that lets them spend time more effectively and usefully.
The bottom line is – any digital marketing company serving a social media client needs to have Pinterest as a part of their promotional strategy because Pinterest has immense potential to boost your business.
How?
Well! A picture speaks a thousand words, and Pinterest does precisely that! Pinterest is not a platform that lets people post photos about anything and everything.
Pinterest is where people get inspiration and new ideas when they brainstorm. According to a study, 90% of users turn towards this platform to help make a purchasing decision.
They hunt for products that help them get the perfect look or produce a masterpiece out of scratch.
When they see a good photo, they pin it, and if the photo looks too enticing to cast away, they head to your website to get the product! Research shows that, on average, a single pin drives two website visits generating a sale of $0.78.
So, let's go through our best tips for using Pinterest for business.
1. Learn how to use Pinterest right
If you are new to Pinterest, you must know how it works and how you can promote your business with it effectively.
Get to know the type of audience who uses it frequently. According to recent statistics, 50% of millennials are on Pinterest, and female users dominate this platform.
If your products are targeted toward these demographics, you are way ahead!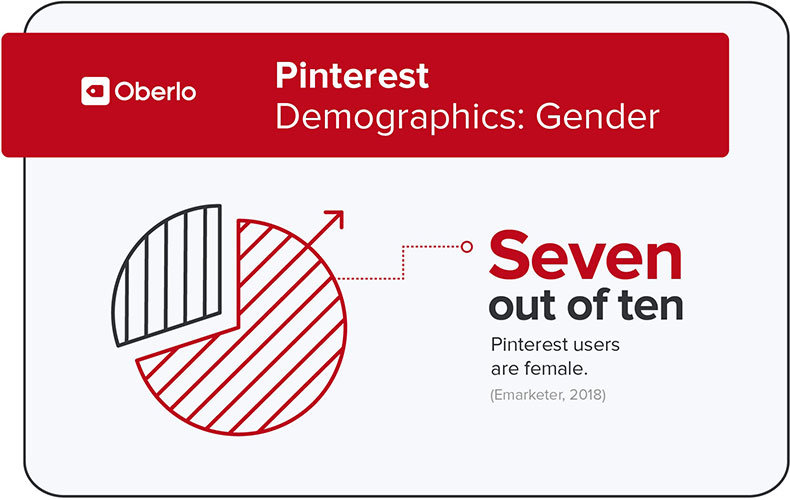 But if it isn't the case, don't worry. Part of using Pinterest for business as a marketing strategy is knowing how to navigate through its broad audience until you have gathered your troop!
50% of users who signed up in 2018 were men, and a significant number of adults over 30 use Pinterest.
Next, learn about the most popular categories of products on Pinterest, and find out if your business falls under one of them.
You can refer to examples when setting up your business account, but don't copy them!
The reason why I love Pinterest is that it not only provides you with a stage to voice your business but also teaches you how to do it.
You can make use of Pinstitute to connect with popular pinners and give your pins leverage.
The webinars will educate you on how to reach more people, take photos that tell a story, and drive traffic to your website.
Get to know its range of tools, each with different functionality, and learn how and when to use them.
Start by taking good photos of your product if you haven't done it already.
You must invest enough time and effort into this task to capture attractive pictures that portray the product exactly as it is.
Now, here's something important to remember. If your images don't look persuasive enough for users to pause and take a look, you aren't doing well. The pictures are your best chance to create a good impression of your business.
According to Curalate, the highest number of repined images have multiple colors, which is something to consider when you design your content.
Once you have a good set of pictures of the right size, begin to pin using relevant hashtags and descriptions.
If you have multiple products, you can create separate boards for each category and group the pins you post accordingly.
The tip here is to keep it simple and organized so that users can navigate through them quickly.
In addition to using the standard pin or the promoted pin, you can also use the cinematic pin that's more evocative.
L'Oréal is a brand that relies on Pinterest for marketing their new products, and its advertising team has experienced a 30.7% improved brand awareness after using this pin for a particular product.
You can add a "buy it" pin so customers can purchase directly from Pinterest.
That is a significant benefit of using Pinterest for business.
3. Follow good SEO practices
So, guess what many users do on Pinterest most of the time? They surf, but more importantly, they search!
For products, services, ideas, and inspiration.
According to recent stats, there are over 2 billion searches a month, and 87% of users have claimed that they have purchased because of Pinterest.
It's like another search engine than a social site.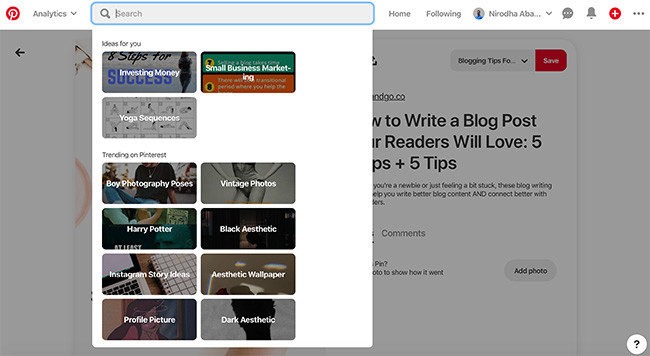 Now, think of the number of potential customers in it for you!
So, it's essential to establish the presence of your business. This is when your best SEO practices come in handy.
In addition to making your pins visually appealing, focus on including well-written and easy-to-read descriptions. Incorporate related keywords that best describe the product or service shown in the image.
Have a username that clearly states the name of your business, and insert a bright logo of the brand.
Try to include relevant keywords in the username and bio for better SEO.
More importantly, link your pins to your website so users can easily access your other products. You can also connect them to your profiles on other social media sites to build active backlinks for your website.
When a user searches for something, Pinterest gathers the most relevant results, just like Google. For that, Pinterest considers several parameters.
The quality of the pin, the quality of the domain, relevance, and the quality of the pinner are some of them.
So, focus on these elements if you want to increase the visibility of the profile and boost your business.
4. Engage with fellow pinners
Pinterest is an excellent platform for start-ups and budding entrepreneurs.
Stats have proven that 97% of searches on Pinterest are unbranded, meaning its users are open to products and services from new businesses.
Also, 6 of 10 millennials are looking for new products on Pinterest.
So, isn't that good enough for you to use Pinterest for business?
And it gives you a competitive edge and the perfect opportunity to get the word out about your venture.
However, this won't be possible unless you engage with other Pinners on the platform.
Reach out to people interested in the category of products/services you provide and create strong interactions with them.
Motivate them to share your products and return the favor by sharing their pins to build good relationships.
One of the key ways to sell your brand is by creating an emotional rapport with the customers.
You can promote your products through ideas and inspirations that appeal to people's desires and preferences. It will grab the attention of people and get them hooked on your product.
Warby Parker is a brand that has enhanced its image this way.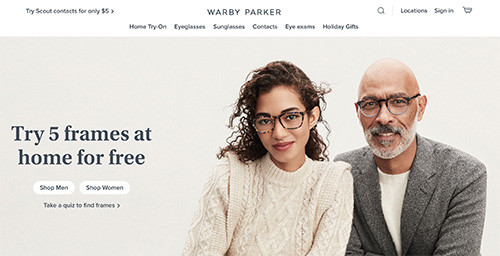 You will gain numerous benefits by building a loyal customer base on Pinterest this way. They will continue to purchase your products or services and refer your website to their friends and other users on the platform.
Did you know that Pinterest drives 33% more referral traffic to websites than other social media platforms?
And that's not it. The Pinterest Smart Feed rates profiles according to the quality of the pinner.
So, the more engaged and active you are, the higher the chances of your products appearing at the top of search results!
5. Provide benefits and expand your follower base
Rewarding customers every once in a while through gifts, coupons, deals, and discounts are a great way to spread the word about your products.
You can advertise them via Pinterest, providing the codes to enter into the shopping cart of the website.
Make sure to use catchy titles and impressive images to grab attention right away.
It is also essential to make it user-friendly by attaching a link that will direct them to the site with deals and discounts. Consider these examples provided by Pinterest for inspiration.
You can organize a giveaway or a contest once you have reached a commendable amount of followers and get them to recommend your product or service to others.
The reward has to be worth enough to compel people to participate in the contest and impress potential customers.
Leading brands like Victoria's Secret and Macy's are using competitions to increase awareness about their new products and boost sales.
Pinterest provides a host of prospects for businesses to grow locally and internationally.
Pinterest has noted a 50% increase in advertising by small businesses between 2017 and 2018, which means that more and more business owners have recognized the opportunity it provides them.
So, it's time you use this beneficial site and boost your business if you haven't already!