Content creation is time-consuming and complicated unless you are an expert like Ryan Holiday or Neil Patel. They could write an enlightening and search engine optimized (SEO) 2000+ words blog post within 1-2 hours.
Could you do that? I really can't even imagine. It usually takes more than 2-3 days for me to come up with a 1500+ article.
However, I still take it as a great achievement because I have not written more than 20 articles yet. If I couldn't finish a piece within a few hours by my 200th blog post, then there is a critical issue with my wring.
At that point, I might give up blogging.
Are great content creators writing for search engines?
Yes, and No. They know how to write their story while optimizing for the search engines too.
I believe that skill comes with the experience they got along the road.
Almost all the articles on NeilPatel.com are 4000+ words. He can do that on any topic, and he knows how to execute that properly.
Why did he write such lengthy articles? Yes, of course for SEO purposes. Even if it is really a long article, his voice is there. The flow is there. We can read effortlessly.

But, as a beginner, writing is not an easy task for me. I even struggle to write my best 500 words on any topic.
SEO makes writing even harder because everybody is talking about SEO solid writing and how it helps us to become a successful blogger.
When I wanted to write about something, I have some extra work to do before start writing. I should determine my keyword/phrase for my article (low competitive and long-tail keywords are better) and write around that keyword.
Right after I selected the keyword, I feel like, my hands are tied. All the ideas I had in my mind are gone. My whole story is gone.
Then I write like a machine because, I have to consider so many things such as inserting the keyword into post title, subheadings, throughout the post, meta description, and as many places as possible.
We all have done this at some point in your blogging career no?
I'm just talking about the keywords. There are many other branches of SEO. Honestly, I don't even understand most of the things.
SEO is Still a Thing?
Don't take me wrong; I never say that SEO is just worthless, time-consuming and creativity killer practice. I'm learning small SEO tricks every day, and you should learn too.
What is the point of playing with SEO too much if I lose the fun of writing and it kills my voice? It may be because I knew nothing about the SEO or grab the snake from the wrong position.
So, I had to choose between content creation and SEO. I picked content creation. It is more important than worrying too much about SEO for nothing at this point.
Apple or Tesla might not worry about SEO. They are huge, and among the most valuable brands in the world. They attract customers by the greatness of their brand.
If somebody wants to buy an iPhone or Tesla Model 3, I don't think SEO or Google play any role there. People just go to the website and place the order.
Yes, I know. That doesn't work for us. We are tiny, and Google helps us to bring our content to the people.
My blog is still nothing in the blogosphere. Maybe I am the one who should worry about SEO more than anyone but, I gave up on SEO already.
Sometimes, it feels like we are working for Google as slaves. I don't want to play by Google's rules anymore.
They are changing their algorithms (Panda, Penguin, Hummingbird) all the time, and what if one day our blogs get penalized by Google?
Violation of Google's rules may happen unintentionally no?.
Depending entirely on Google may be a bad idea. We should rely on our content, our creativity, and our knowledge.
This may not be the best idea for all bloggers out there but, It is for absolute beginners because I know how difficult to find my inner voice when SEO clown is staring at me.
SEO For Absolute Beginners
If you really believe that you should be practicing SEO from day one, well, follow these fundamental steps and you'll be able to write with no stress at all.
Do not search for keywords even before you start writing. Give priority to the writing, not to the SEO.
Find a topic, open your word processing app ( I use Scrivener), and just write anything that comes to your mind. Find your inner voice and expose your story. Enjoy the writing.
Keyword Research
After you finished the first draft, do your keyword research, if you want it so badly. Extract a keyword (you'll see it eventually) from the first draft and do not even think about two keywords for the same post.
What would you do if the selected keyword/phrase is a highly competitive one? Do not worry. Use it and move to the editing step.
You gonna have to modify your article according to that keyword but, it is OK. You've already done with your first draft. Your story is already there. Nothing to worry about now. You have to edit the crappy first draft anyway.
For this article, my keyword would be "SEO." Isn't it obvious?
My guess is, SEO is a high or medium competitive keyword, and I'm not going to see if it is correct or not.
Yes I know, this article might not even get a chance to come to Google's 100th page with that keyword but I'm OK with that. Hitting the "Publish" button has the most thrill. Not this scary SEO stuff.
The Best SEO Plugins For Wordpress
1. Rank Math SEO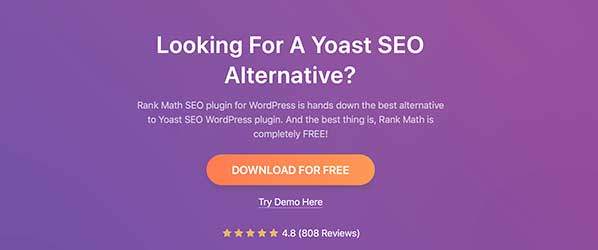 Honestly, Yoast SEO was my first love. I have been using it for years on my Daglega and it serves me pretty great. However, a few buggy updates of Yoast SEO plugins had almost cracked my blog apart.
Rank Math SEO is the star these days among bloggers. Everybody talks about that and even my good friends told me Rank Math SEO plugin works pretty good.
It is totally FREE (Their paid plans will come soon but they promise not to remove any features in the free version. They will add some extra for the paid versions in the future).
So, I decided to take the risk and try that out.
All the recommendations are 100% true. The best part is, importing Yoast SEO settings. It is really easy to import every tiny modification we've done on each page with a single click and within seconds.
Even if I decided to ditch Yoast and move to Rank Math, I had the fear of losing all my traffic and SEO I have done for years by following hundreds of articles and videos.
But, Rank Math has done an amazing job. Everything is in the right place as those were before.
The other benefit of using Rank Math SEO is, they offer some great features such as multiple keywords, search console, SEO analysis, etc. which are in the Yoast SEO paid plan.
Looking For A Yoast SEO Alternative?
Don't wait anymore to use these amazing features for free.
2. Yoast SEO
Install this fantastic plugin called "Yoast SEO" through the Wordpress dashboard. If you do not know how to set up the plugin, find this very detailed and step by step guide from Yoast SEO itself.
The beginner's guide to Yoast SEO
This plugin not just optimizes your content. It works throughout the site. That is the beauty of it. The free version is more than enough. Do not buy the premium version. It'll complicate things even more for beginners.
Yoast SEO plugin will remind you to make the significant optimizations and improvements in your,
Title tag
Meta description
Alt text for images
Permalink structure
Headings (H1-H6 tags)
Internal links
After practicing these necessary optimizations with several blog posts, you will be able to do it within 15-20 minutes. Don't spend too much time on fixing all the issues.
Yoast could say "The focus keyword not appears in subheadings" but, you should not sneak the keyword into subheadings just for SEO if it does not make any sense.
See how Yoast SEO plugin worked for this article itself. It says I should not link out to a page with the same focus keyword. Do I have to remove the link to the Yoast SEO guide above?
I don't think so because I don't want to compromise the quality of my article over SEO.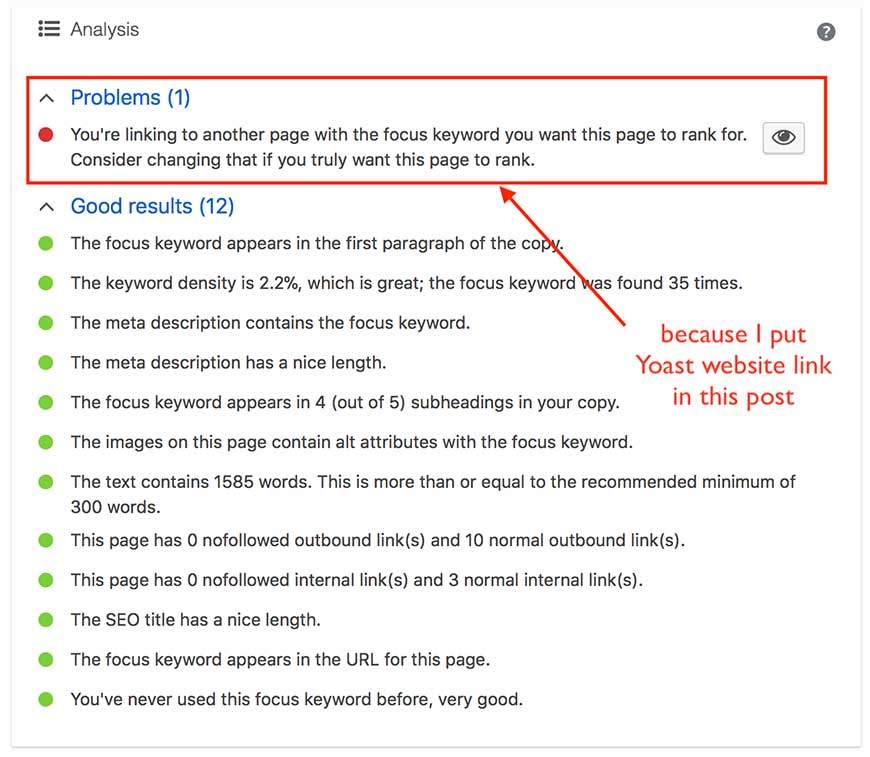 Social Media vs. SEO
You bear all this burden as you want to rank your blog higher on Google and attract viewers. But Google is not the only way to bring traffic to your blog.
We should not underestimate the enormous potential of social media regards to traffic.
With a few years of experience as a freelance social media strategist, I knew the power of social media and used that power to bring potential customers to my clients' websites.
You do not have to use all social media platforms. Being active on all platforms is impossible unless you have a company or a team to manage your social profiles.
So, stick to a maximum of three social media platforms. Engage with people and promote the blog.
Pinterest vs. SEO
Why Pinterest? You know what, Pinterest is not just a social media. It is primarily a search engine with unique features. People use it to search, curate and consume content.
I'm not saying, appear on Pinterest's first page is easy but, it is easier than Google's first page for sure.
You won't believe if I said, I know a few bloggers who attract thousands of views/sales coming specifically from Pinterest.
They don't even care about Google's rules; they, however, manage to appear on Pinterest's first page. I also couldn't believe until they show me their Analytics reports.

When I searched "SEO tips for beginners" on Pinterest, gorgeous Raelyn Tan's post appeared on the top row of the first page.
So, I asked her to show us how this post brings traffic to her blog. 267 website visits from this post alone.
Isn't that enough you to understand the power of Pinterest?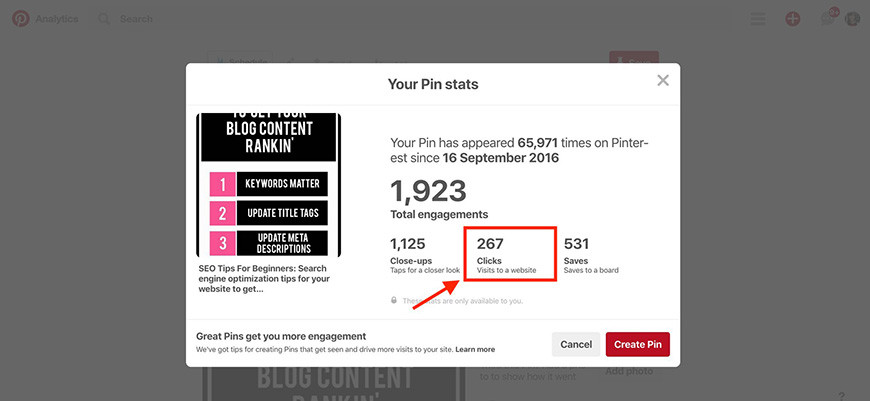 So, give Pinterest a chance while you are considering the social media platforms suitable for your blog. You will not regret.
Creating content for Pinterest based on your articles is much more comfortable and fun. It is like taking a break from writing or doing a hobby.
Canva is a great free web app to create posts for Pinterest. Working on SEO stuff does not feel like that unless you are an SEO enthusiast.
Over to You
As I mentioned in the beginning, 1500+ words mean 2-3 days of endless work for me.
Giving up on SEO has already changed that because I completed this article within 24 hours with much less effort. I feel like I'm writing now.
I think SEO is not the only or best practice. If it restricts you from producing your creative content, in my perspective, SEO has no value at all.
Even the least optimized content can bring traffic if you could manage to post your original work. What do you think? Is it a bad idea to give up on Google and SEO?SaveSaveSaveSaveSaveSaveSaveSaveSaveSaveSaveSaveSaveSave