Let's face it, as new blogs and online businesses continue to pop up every day; it's becoming increasingly challenging to attract and maintain readers' attention.
Getting top rankings or even a first-page listing on Google is no longer easy.
While SEO plays a massive role in helping businesses build a strong web presence and attract traffic to their sites, the tactics involved have changed significantly compared to what they were 15, 10, or even as little as two years ago.
Nevertheless, with proper knowledge and execution, SEO can still save you a ton of money in the long run compared to paying for advertisements and help you reach your target audience.
This post will cover the top five SEO trends you can't afford to ignore. Let's get to it!
Top 5 SEO trends
1. Zero-click searches
It used to be expected that you would type your search terms on Google, get a page full of matching results from across the web, preview the listed sites for the best information by scanning the meta descriptions, and finally click on the best option(s).
These days, thanks to the answer box, Google spoon feeds you new information by displaying short answers at the top of your Search Engine Results Pages (SERPS).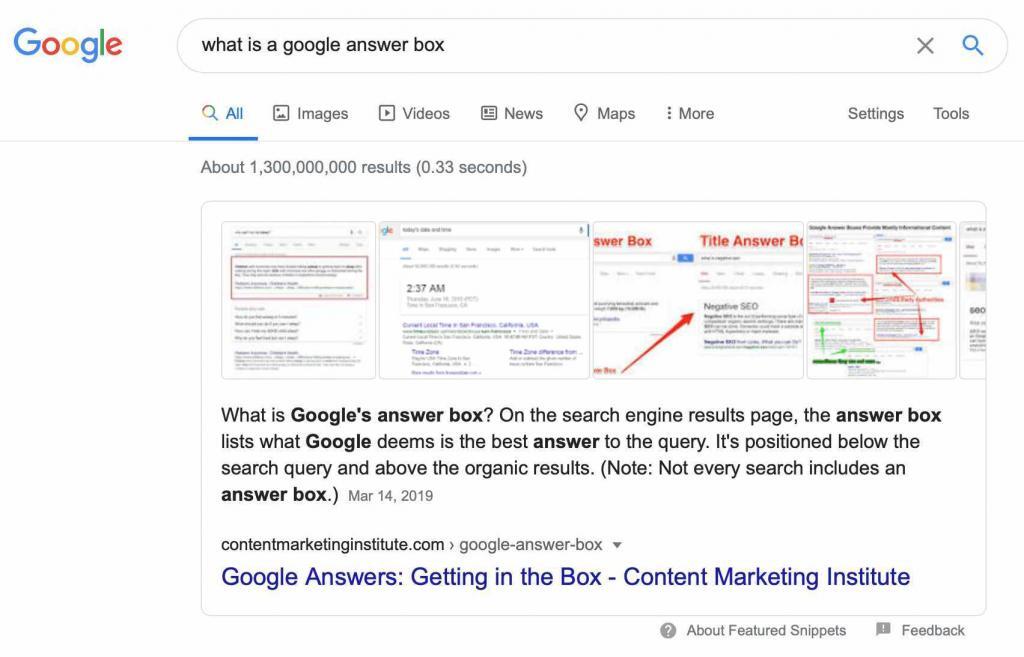 Although these answer boxes don't show up for every search, they do appear most of the time, and it has become one of the best ways to access data quickly.
Over half of all the searches, it seems, end at the answer box. According to detailed reports by SparkToro, less than 50% of Google searches now result in a click!
Zero-click searches were a massive trend in 2019 and will become even more popular in 2020. So, how can you use them to improve your SEO?
You can optimize your content to be the source of information for the answer box.
Here are a few ways you can do this.
(a) Use the best SEO trends to rank on the Search Engine Results Pages (SERPs).
Creating longer content, performing relevant keyword research, including good image alt-texts, linking to other pages on your site, etc. In a nutshell, look up the best SEO practices you've not implemented and use them on your website.
(b) In case your post is answering a specific question, then list the points you've covered in numbered form or a list format.
For example, a search for "best essential oil for first aid" yields a variety of essential oils from a blog that are arranged in list form. In this particular case, the author chose to use bullet points to list the oils, and this caught the attention of the search bots.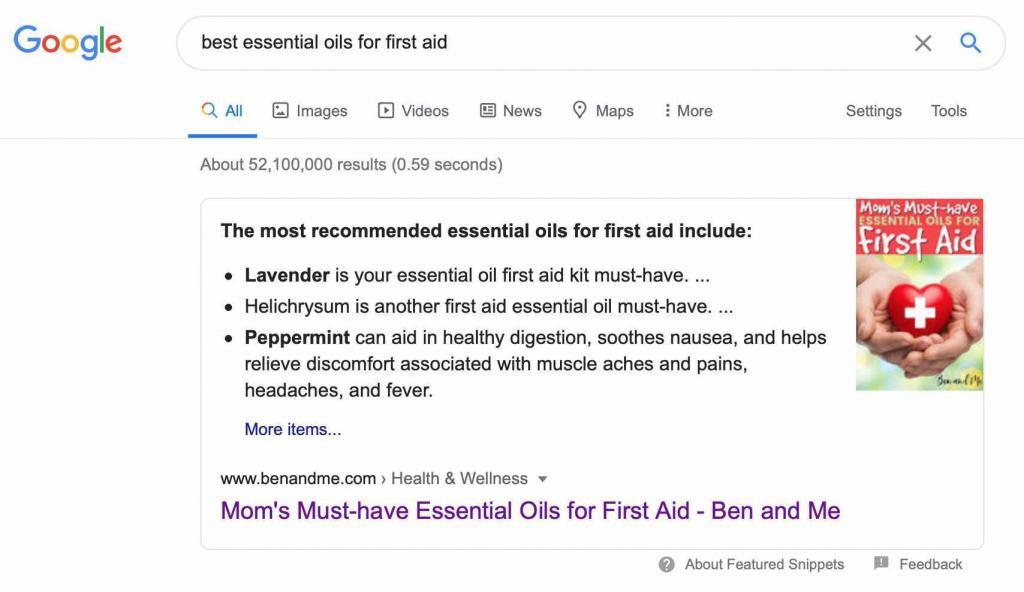 (c) Optimize your content according to the SEO trends.
Google looks for specific information to create a snippet answer. Help Google figure out your content by optimizing your title, header, sub-headers, and copy.
(d) Increase your website's authority. Google will not feature an answer snippet from a website with a low E-A-T. (I'll talk about E-A-T later on in the article)
While the Google answer box will not show the blog or site from which the information snippet was obtained, your website/blog URL will usually show up immediately below the answer box with your blog post title just below it (refer to the GIMP example below).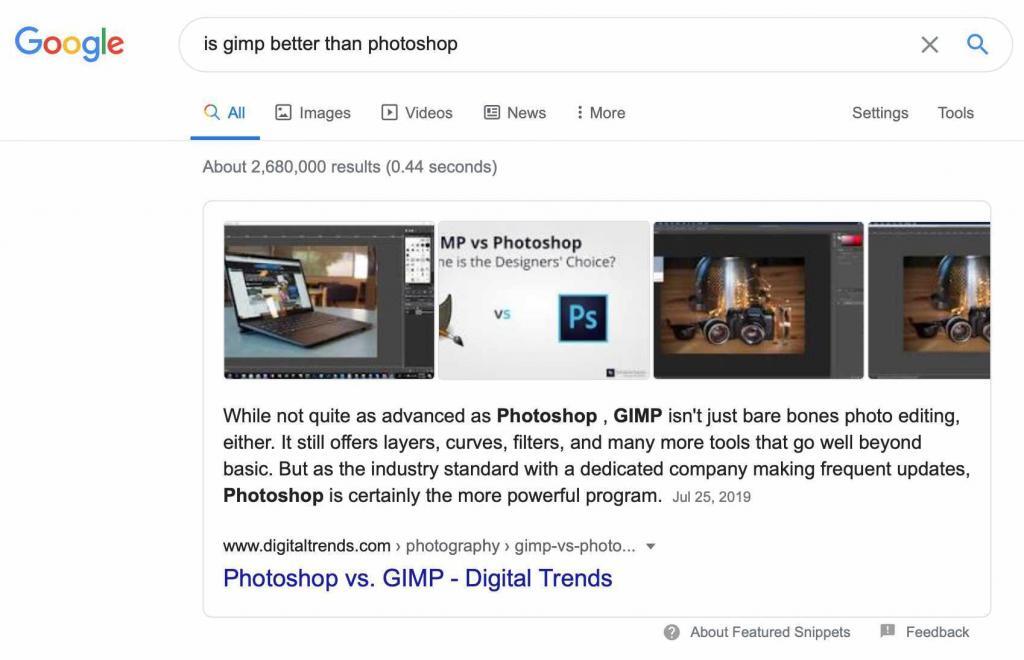 Although you may get zero clicks (considering less than 50% of searches don't result in clicks), continually appearing on the search answer box exposes your brand to a broad audience and builds familiarity.
Also, in cases where users need more information, they are more likely to click on your website URL, which is located (usually) immediately below the answer.
2. Voice search optimization
Voice recognition technology has been around for years but has only recently become popular in cell phones and other gadgets.
This is partly because technology has grown over the years and greatly improved. This has made it much easier for devices to understand spoken words fully.
This "Colonial State Ad" back from 2007 highlights the initial frustrations associated with voice technology.
Today the technology has matured dramatically and is widely available at little to no cost.
A few stats about voice search:
In 2016, 20% of mobile queries were voice searches.
It is estimated that voice search will make up 50% of all online searches in 2020.
So what does this mean for SEO and your business?
While there are no official reports that Google has developed voice search algorithms to rank websites, voice search still affects the web ranking results.
It has been observed that the search results from a voice search differ from the results that show up when you type your query into a search engine.
What can you do?
Here are a few helpful ways to optimize your strategy according to this SEO trend.
Use long-tail keywords
A voice search is usually made up of longer and less specific words. As such, you need to broaden your search terms to include many long-tail keywords.
Adjust content and SEO strategy for natural language
Learn the differences between typed and voice search language to help you optimize your content for natural language searches.
Hire voice search experts
The best way to stay ahead of this growing trend is to hire voice search specialists or SEO strategists with voice search expertise.
3. Video for SEO
Ever since Google added a video to its algorithm searches way back in the mid-2000s, video has played an enormous role in improving SERP rankings.
Over the years, as videos became increasingly popular, Google also adjusted its algorithms to focus not only on the keywords users target but also on the user's intent behind the query.
The 2013 Hummingbird algorithm is the first to implement this change.
So what does this mean for your SEO in 2021?
Since people enjoy watching videos, Google displays videos whenever possible, for specific queries, specifically for searches that start with the words "how-to" or "what." e.g., How do I change a flat tire? What is a unicorn?
Simply put: Focus on creating quality videos that answer specific questions.
If your videos are engaging and provide valuable and relevant answers to search queries that deal with "how-to" or "what," then there's a high likelihood they will show up in the blended search results.
This will help you increase the exposure and traffic for your site.
In addition, the more time users spend on your web pages watching your videos, also known as dwell time, the more Google recognizes your web pages as valuable and ranks them higher.
Other benefits of video
Quality videos have a higher click-through rate compared to written content. They also have a much higher conversion rate.
81% of all web traffic will come from video by 2021.
If you've been relying purely on blog posts and articles to boost your SEO, then it's high time you diversify to include video in your 2021 SEO campaign.
4. Focus on E-A-T content
E-A-T is an acronym used by Google that is part of Google's Quality Rater Guidelines, which is used to evaluate the Expertise, Authoritativeness, and Trustworthiness (EAT) of search results.
E-A-T is designed to help Google prioritize pages that many users seem to value and trust.
In the beginning, when it was less prevalent, E-A-T was mentioned exclusively in the Quality Rater Guidelines.
Today, it is mentioned in various sources across the web. Google's How Search Algorithms Work describes it as a key ranking factor which, thus, makes it crucial for ranking in 2021.
In theory, the higher the E-A-T rating, the better your pages will rank. I say in theory because E-A-T scores don't impact search results directly. They are just one factor that algorithms consider in ranking content.
For E-A-T success, consider the following:
Google looks for evidence that the author has expertise in a given topic for it to provide a favorable E-A-T score. This helps build trustworthiness.
Monitor your comment section
Comments also referred to as "user-generated content," were once a signal to algorithms of quality content. However, today's E-A-T framework penalizes pages that have comments considered to be either incorrect or composed by non-experts.
This is especially true if you run a site that covers sensitive topics such as health and medicine. In such a case, you should moderate your content to allow contributions only by verified experts.
Edit or remove low E-A-T content
In a nutshell, avoid clickbait titles, and focus on creating purposeful content. Please read the Google Quality Rater Guidelines for more comprehensive information.
Invest in an SSL certificate
Trustworthiness (E-A-T) is not just about accuracy and reputation. It also extends to security.
Short for Secure Sockets Layer – SSL is a security technology that encrypts data as it moves from the web browser to the webserver.
This dramatically reduces the risk that sensitive data, such as passwords, usernames, credit card numbers, etc., can be stolen by hackers.
To ensure the web user is protected, Google also considers a site's security and factors it into its E-A-T score.
If your site is "not secure" or has an SSL certificate that redirects to an insecure URL, you risk receiving a low E-A-T grade.
One of the best places to buy or renew your SSL certificate is Namecheap. You can also consult your web hosting provider for SSL. Most of them offer certificates for a very low price.
5. Mobile-first indexing
On July 1st, 2019, Google defaulted to mobile-first indexing for all new and previously unindexed sites. This means that your site's mobile version is given priority regarding ranking. If you don't have a mobile version, then Google will use your desktop version instead.
However, you may not rank favorably compared to if you had a mobile-friendly site since the crawlers will be "mobile."
If you have a fully responsive website, your next course is to ensure your mobile site is well-optimized for the user and Google.
Here are a few ways you can adapt to this trend.
Mobile content optimization
One good tip is to focus on mobile keyword search terms. Keep in mind that mobile and desktop search behavior is not identical.
Mobile voice search
Reports show 1 in 2 smartphone users engage with voice technology. Using long-tail keywords targeted for voice search is an excellent way to attract such users to your site.
Mobile-friendly copy
Make sure your mobile font is large and easily readable. This will increase the dwell time and the number of time users spend on your site due to enhanced readability. Also, write mobile-friendly copy. This means producing short purpose-led content that focuses on giving the user the correct answers quickly.
Mobile snippets
Optimize your metadata and description for mobile SERPs.
Conclusion
SEO is continually evolving. Site owners unfamiliar with the top 2021 SEO trends struggle to get high-quality traffic. By revising your strategy according to the SEO trends mentioned above, you will get an edge over your competitors and rank favorably in the SERPs.
Let's review the 2021 SEO trends you need to be aware of to succeed again.
Zero search indexing. Adopt SEO strategies to make your site appear on Google's search box for enhanced exposure.
Voice search optimization. Optimize your site for voice search to accommodate the rising population of voice search users.
Create engaging videos. These tend to show up on blended search results, i.e. results that show both written content and videos, thus increasing exposure and building rank.
Follow Google's guidelines to produce content that demonstrates expertise, authority, and trustworthiness.
Optimize your site for mobile-first indexing.
Care to share your thoughts on other 2021 SEO trends? Let us know in the comments below.