While content marketing is an essential part of the digital marketing campaign, you must incorporate Search Engine Optimization (SEO) into the mix for your content to be seen.
Having an integrated strategy that combines SEO and content marketing can help you develop high-quality content that can make its way to the top of the search engines.
Here, we will discuss all there is to know about SEO and content marketing, plus how you can integrate these two strategies to boost your digital marketing efforts.
What is SEO?
Search Engine Optimization, or SEO, is the process of bringing organic traffic to your website through search engines.
The Search Engine Results Page, or SERP, is the results page that appears when the search engine user types in a given keyword or phrase.
Depending on that given keyword, the most relevant results will be the first results you see on the page.
Businesses can use these keywords to target their specific audience, improving their possibilities of being seen online.
Multiple factors can impact your SEO, content being one of them.
There are on-page and off-page factors that impact your SEO. Things like internal and external links, keywords, and page layout can all contribute and have a high impact.
For people to find your content, you need to boost your SEO efforts to make your way to the top of the SERPs.
Content marketing?
Now that we've developed a brief understanding of SEO, let's talk about content marketing and how we can use SEO practices to reach a wider audience.
Content marketing is simply creating high-quality, valuable content for your target audience. For your content to truly be relevant to your audience, it must be helpful.
Ideally, the content you put out should have an end goal. It may be to increase sales, or it may be to build your brand awareness.
Once you create the content, you need to promote it. It's one thing to promote it on social media, but using proper SEO strategies can boost your content marketing.
So, it's put in front of a broader audience and generates more potential leads.
How can you combine the two?
While social media is a powerful tool, brands can use it to promote their content. SEO provides a more targeted approach that can attract your specific audience.
Search engines are users' number one source for accessing immediate information in a time of need.
You can make your content accessible to the right people, as opposed to social media marketing, which promotes your content to a broader audience.
When you need to search for a product or have a question regarding a particular topic, you run to Google to find answers.
SEO is a way to directly target your audience by being right there in their time of need.
Incorporating SEO elements into your content marketing strategy can increase your visibility on search engines, thus attracting more potential leads.
When creating content, focus your content around your target keywords. For potential leads to find your content, it needs to be relevant to that target keyword.
So, when customers search for that keyword or phrase, they'll be led to your content.
As you can see, content marketing and SEO work hand in hand.
Though they are different marketing tactics, using them together can produce excellent results and put your content in front of the right people.
Now that we've covered the groundwork of these two tactics let's discuss the necessary steps to produce the best results.
Research your target audience
Whether SEO based or not, researching your target audience is one of the most critical steps in developing a content marketing strategy.
Before creating and promoting the content, you need to know who you're even creating it for.
Think about your product or service and who will benefit from it.
Researching your target market and developing an understanding of their specific needs and wants will help you understand which keywords to target.
Put yourself in the buyer's shoes to help brainstorm what topics they might be searching for online. Think about the challenges they face or the questions they have.
Understanding their needs will help you better gauge what topics to focus your content around while using SEO to target keywords specific to those topics.
Keyword research
That brings us to the next important step, keyword research. To get seen on search engines, you need to know what people are searching for.
Doing keyword research can help you understand who is searching for a given topic, what they're searching for, and how they like to grasp this information.
As previously mentioned, researching your target market is one of the first steps in developing an SEO content marketing strategy.
When you start keyword research, you need to ask some crucial questions.
It would be best if you were the consumer to understand how and what they search for. What kinds of words do they use when searching for something?
You probably have a few keywords in mind that you'd want to rank. Try making different keyword variations and make use of a keyword research tool.

This will help you discover new keywords you may not have thought about and generate entirely new content topics. It probably brings your content marketing strategy to the next level.
Knowing what keywords to target can be tricky. Of course, you'd think targeting the higher search volume words would be the smartest thing to do.
However, because these high-search volume keywords are so competitive, it may be more challenging to rank.
So, try focusing your efforts on ranking for keywords with lower search volume.
Prioritize what high search volume keywords you want to rank for, as well as keywords that are less competitive with lower search volume.
Keyword research takes a lot of time and effort, so take your time to conduct thorough research before creating your content.
Produce high-quality content
Now, we recognize who our audience is and what they're searching for. So, now, it is time to create your content.
There are many different formats for content creation, but your content should always be focused on your target keywords.
Low-quality content can impact your SEO, so make sure you are only developing high-quality content to reach high-quality leads.
For content to be considered high-quality, it needs to:
Be free of any grammatical or spelling errors
You'd think with all our online tools available, you wouldn't run into this issue, but it still happens! Make sure to proofread your content and have a second pair of eyes look it over before publishing. Minor errors like these are a quick way for potential leads to devaluing your input as a leader in the industry.
Your SEO can be impacted if your content lacks readability, so you must ensure it is properly formatted. Make use of white space on the page, use proper headings and subheadings, use images, and break up text into small paragraphs. This will allow the reader to skim and scan through the content, if needed, quickly.
Include relevant examples that support your topic
When required, use relevant examples from other sources that support your topics. Sometimes topics are easier to understand when they have suitable examples to back them up. Use screenshots of specific examples or links to relevant and credible sites to enhance your reader's knowledge.
Geared toward your target audience
Of course, the content needs to be written for your audience. Over time you should be able to develop a unique brand voice that your readers can relate to.
Let's go over all of the essential elements of high-quality content in this example from the TransUnion ShareAble for Hires blog.
The content is free of any grammatical or spelling errors. Paragraphs are short and don't exceed more than 2-3 sentences, and they use bullet points to break up the text.
They included a high-quality image with a stat from a relevant and credible source.
Their content is relevant and valuable to their target audience, small business employers, and they include internal links to other related content.
Optimize existing content
Updating your current content is an easy technique to boost your SEO efforts.
Sometimes there may be new keywords you'd like to rank for, or maybe the content is outdated and lacks searchability.
Here are a few tips to refresh and optimize existing content:
Look for new target keywords and include them in your content. Focus your keywords around those that will bring in the most potential search traffic.
Add additional information to give readers a fresh outlook on the topic.
Update any time-sensitive aspects of the content.
Optimize content that wasn't previously optimized
Update your internal links
Update your images, alt tags, and meta description
In this example from the Moz blog, we can see that their content is based around 2018.
They can quickly refresh this post by updating it to include relevant information for 2019.
Input new target keywords or insert new related stats and information from other credible sources. It is as simple as that.
This content can remain relevant and bring in organic traffic long after it's published as long as it continues to be updated for search engines.
Whether you're trying to increase your brand awareness, make a sale, or educate your audience, using the above tips can help you get there.
SEO can take your content marketing strategy to the next level, so take the time to develop an integrated strategy to increase your sales, build brand awareness, and increase your authority within your target market.
Note: Don't forget to PIN the image below.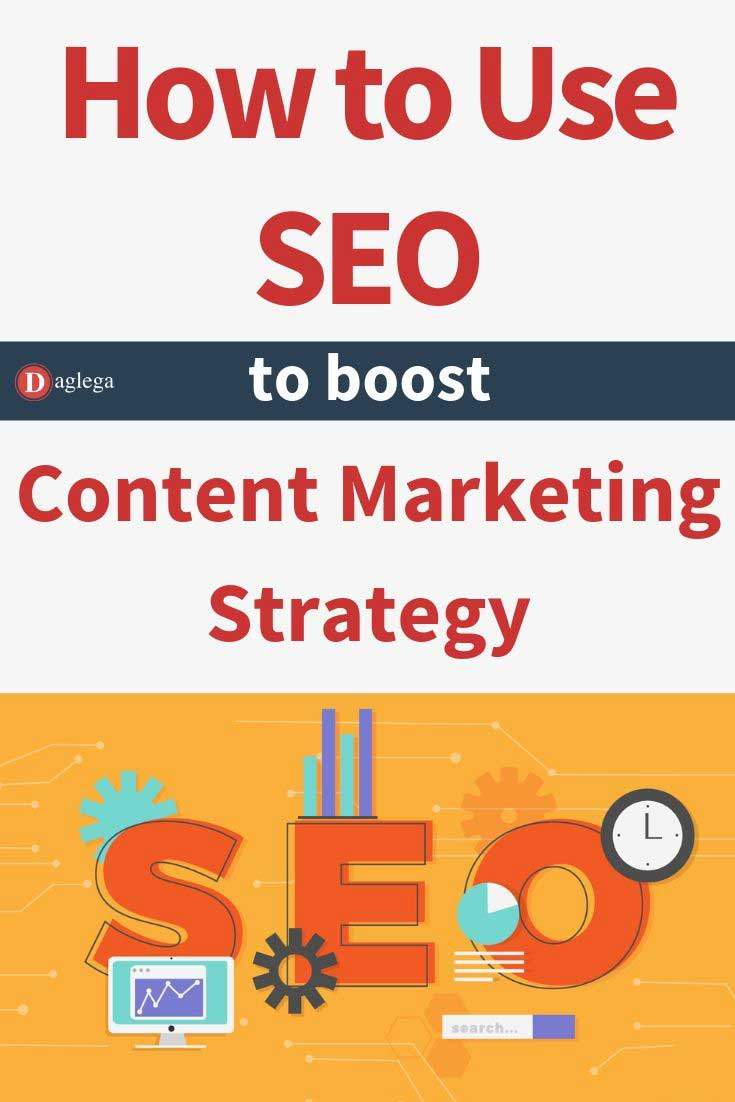 This is a guest post by Corey Doane. If you would like to write a guest post for Daglega, please contact us.