Becoming a freelancer is easy but becoming a successful freelancer is not that easy. How about becoming a successful freelancer while studying?
I believe, it surely is the hardest.
First of all, you have to ask this question from yourself about becoming a freelancer, especially you, students.
"Do I want to become a freelancer while studying full time?"
You would not read this unless you need to become a successful freelancer while studying. Yes, I know that but, I ask you to consider this question again.
People think that freelancing is much more comfortable than a 9 to 5 desk job.
Completely WRONG!
I know how hard this is and it is even harder while studying. I don't want you to ruin your studies for freelancing business.
So, my advice is, you have to make this decision deliberately. This will be a turning point.
Maybe the best or the worst decision you have ever made in your life.
You surely have to deal with either of those situations. So, knowing the consequences will help you to make up your mind in advance.
Are you OK with these things?
Busy all the time. I mean really busy!
Sleepless nights
You'll lose some quality time with your family and friends
Have to accept a significant change in your lifestyle
Do your studies in a reduces time frame
Ready to experience not being paid for your work
Unless you are ready for such things, you might not even think about becoming a successful freelancer.
Don't take me wrong. I'm not discouraging you. 
Become a successful freelancer while studying full time is an absolutely exciting and doable thing. I have done that. So, you definitely can.
If you get advice from a person who has experienced doing things, you do not have to test the same things all by yourself.
So, these are my eight best tips to become a successful freelancer while studying full time.
1. Priority Number One
Maybe you are studying for your first degree or your Ph.D. or still in high school. It doesn't matter. 
Always priority NUMBER ONE must be your studies.
Freelancing can wait.
Being a freelancer was an exciting thing for me. I could earn enough since my second year at the University while most of the students were struggling to cover the daily expenses.
You'll see thousands of reasons to stop studying and become a full-time freelancer when you've got a good monthly income.
Don't let it fool yourself. 
Set A Time
Dedicating a specific time for your studies is the only way to getting out of that situation. It can be 4 am or 12 am, you have to have a book in hand at that time.
In the beginning, this will be tough to manage but, with the time, you'll adapt. 
Even though I worked as a freelancer, I completed my special degree with honors, and still, I'm working as a freelancer while studying full time on my master's degree.
2. Don't Afraid To Say "No"
This is very critical. To become a successful freelancer while studying, you surely have to say NO to some projects.
Saying NO without fear and taking down the projects is difficult in the beginning. But, if not, you won't have space for the right projects or your exams.
Chances to make our own rules are very rare as freelancers nowadays. Saying YES to all is not how you become a successful freelancer.
Even some clients think that freelancer should accept all their terms. No, you do not have to be like that. Make your own terms and say NO when it is necessary.
NO To Cheap Projects
The cheapest freelancer does not become the most successful freelancer. Sometimes, beginners work for free to get exposure. Don't jump right into it.
I know, that work experience is great, and you'll be able to value that experience in the future but, you do not have to.
You should understand your value. Generally, in the freelancing world, people are asking for much less than what they are worth.
So, at least, do not work for free. Cheap is acceptable at that point.
Many great clients are willing to pay what you deserve for your time and hard work. Until you find that client, working on your thesis or helping your mom would be nice.
If somebody asked you to work for an undervalued price, you should not think twice to say NO right away.
But, say it nicely because we do not know the other side of the story. Sometimes, he/she genuinely believes that the price is OK. 
Save Time By Saying NO
Time management is a massive part of the process of becoming a successful freelancer while studying.
As I've mentioned above, dedicated time for studying must be preserved. Taking time off also very important to stay productive.
When clients have offered you projects, which are beyond your limits, you have to say NO. 
Explain the reason why you couldn't accept the offer to the client. It is not a waste of time.
Once, I got a project that I'm not interested in. So, I explained and asked him to find someone else for that project, and I didn't forget to give him some tips to run the project better.
As I explained the reasons nicely, he recommended me to his friend and got a nice project which lasted for years. It's a win-win situation
That is how I convert the worst project to the best.
There is another easy way to say NO. Almost all the freelancing platforms have a method to activate the vacation mode.
This is great when you have exams because you are a full-time student. Not a freelancer.
3. Narrow Down Your Niche
Start small. You may be capable of working in different niches but, selecting the best is critical at this point.
Hovering around different niches might not fit for students. You already have enough things to work on. Don't you?
Working as a freelancer is not the ultimate goal. After you've completed your studies or got your degree, you can think of this deep.
Becoming an expert on a single niche is better than a mediocre worker on different niches. 
If you are a writer, stick to the writing. If you are a graphic designer, stick to it. Even if you could write and create graphics, do not even think of working in both areas. 
I'm not saying that you should stick to a specific niche forever. Multiple streams of income are not bad at all. But not while studying full time.
4. Start With A Good Platform
Before selecting a good freelancing platform, you should define your niche because each service comes with a unique concept.
Take your time. Do your research, organize everything and then sign up for the most suitable platform for your skills.
Relying on these freelancing platforms may not be the best idea, but as a beginner, you can take some good things out of these freelancing platforms such as,
Finding clients is easier for beginners
Easy to understand the trends of your business niche
Easy to see how other freelancers work, their price, their skills
Learn new things with new jobs
Learn how to communicate professionally
Your money is safe with these platforms
Easy to convince new clients with a well-rated profile.
Easy to showcase your skills by taking skill tests (most of these platforms have)
Setting up your business website and attracting clients is time-consuming for a newcomer. 
You'll have to maintain the website, do SEO and do blogging for years to build a successful business.
You are a person with another top priority. So, starting with a good platform is your best shot.
It's time to think of your brand, after you've finished your studies, with a whole lot of experiences by working with different clients.
Again, do not create your freelancer profiles everywhere. Stick to the most suitable platform and try.
5. Apply What You've Learnt
This may be the best time to start because you have a chance to practice what you are learning in college while earning some extra bucks. 
Are you learning science? Science tutors are paid very well. Money is on the table. You have to figure out how to get that money.
Isn't that great if you could build up your business on what you have learned? We do not have to wait until we completed our course. Start small.
And the best thing is, freelancing might help you to understand your strengths and weaknesses to make decisions about your future career.
6. Develop New Skills
Evolve with the industry. Go with the trends. If not, you'll not become a successful freelancer.
Yes, I asked you to stick to only one niche but, I didn't ask you not to learn new things.
I didn't start my freelancing business as a social media strategist. I started doing very basic data entry and web research work. Can you believe that?
I ended up being a social media strategist because, I learned new things, develop new skills all the time.
This blog is another example of that. I knew nothing about Wordpress, coding or blogging but, I have set up this blog all by myself and became a blogger.
Yes, I know, some would argue that writing a few articles is not enough to put "blogger" under my name but, I'm not afraid.
One day, I'll become a successful blogger. I believe in myself, and I'm taking the risk.
When you've become an expert in Facebook marketing, what would you do if a client asked you to work on his Instagram too?
7. Use Social Media
Your social media presence should be strong because you might find all your clients online at least in the beginning.
But don't let them consume your precious time too much.
Showcasing your skills through social media will get new clients. I found some of my best clients through Twitter and LinkedIn.
LinkedIn
LinkedIn, the professionals' network, seems to be the best option for you as a beginner.
Even if you had nothing to show, you could build an excellent freelancer portfolio on LinkedIn.
If a client found you on LinkedIn, he must have seen these details, 
An easy way to contact you
Your educational level
Other skills (add to your profile with one click)
Previous projects/ interested areas
Publish a few articles (related to your work area) on LinkedIn to impress your clients
Tell them who you are and how you could work on their projects
The best thing about LinkedIn is, you can get skill endorsements and recommendations from your contacts.
Do not afraid to ask a LinkedIn recommendation from your clients at the end of a successful project.
See, some of my previous clients left me with the best recommendations.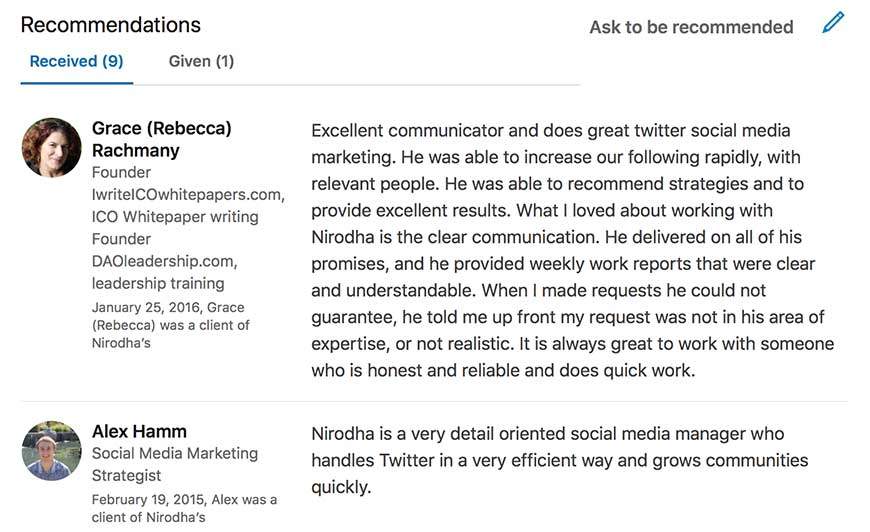 Other social media are also the same but, each works its own way. In Twitter, the number of followers matters. On Instagram, the quality of your pictures matters. In Pinterest, the quality of your boards/pins matters.
Stay Active
In the process of becoming a successful freelancer, social media should use smartly and professionally.
Two or three social media platforms are more than enough for you as a beginner and as a full-timer in studies.
Being active on all social media is impossible, and it is time-consuming. Abandoned social media profiles probably damage your good name.
So, you do not want to create profiles on all social media.
8. Automate Social Media
You gonna be the busiest student in your class. Automating some social media actions save your time.
Thankfully, really smart social media automation tools are available for everything from scheduling content to engaging with people these days. 
But, there is one crucial thing you should keep in mind. Automation of social media does not mean being completely hands-off.
To keep your profiles live and authentic, a personal touch is a must.
I have put a list of fantastic automation tools to make things easier for you. Find the best automation tools according to your social media preferences.
Until you being active on two or three social media platforms, these tools are free. I think free plans are more than enough for beginners.
I am still using the free versions myself except Crowdfire paid plan.
Free Versions Available
Buffer
Hootsuite
IFTTT
Crowdfire
SocialPilot
TweetDeck
SocialOomph
Later
BoardBooster
Planoly
Hubspot
No Free Versions Available
AgoraPulse
Buzzsumo
SproutSocial
Viraltag
Tailwind
PostPlanner
Wrapping Up
Based on my own experience, I strongly suggest you take these tips very seriously.
You can certainly make money as a freelancer within a few months but, if you want to be a successful freelancer, do not focus only on making money. Always try to deliver the best results.
Freelancers' life depends on healthy and long-term business relationships with clients. So, build an audience using social media and seek the best clients out there.
What do you think about becoming a successful freelancer while studying full time? Did I miss any other tips?
Feel free to drop a comment below.
Photo by Trust "Tru" Katsande
SaveSaveSaveSaveSaveSave
SaveSave
SaveSave