We are all stuck in our homes. However, we are fortunate to be in our homes with our families while thousands fight this deadly virus.
So, you should do your part too.
What did you do in this coronavirus crisis?
Did you start watching a new tv show or spend the whole day on Netflix? Did you spend too much time worrying about the coronavirus vaccines, the number of patients, and deaths worldwide?
Yes, you must care about the people around you and worry about those in trouble. That is called empathy. But, unless you work in the health department, you can do better than worrying all day.
The worst situation will come after the coronavirus crisis ends. You have to be ready to face it. Those times will come within the next few months. Economies will collapse. I believe you'll be in trouble if you are in a developing country like me.
So, what can we do?
We can do several important things while we are home other than opening the refrigerator a hundred times a day and overthinking about our hand sanitizers.
For that, you need a laptop and an internet connection.
It's the best time to write
My aim is to put down on paper what I see and what I feel in the best and simplest way.

– Ernest Hemingway
Every day, you wake up with uncertainty and what will happen tomorrow. Sometimes, it is far worse than the virus, right? Writing can keep your mind away from all those negative ideas.
Yes, I know writing is not the easiest thing to do from home, especially at this time, but it is one of the best.
What is in your mind? You think you are not a writer, right?
I'm not a writer. As I mentioned several times before, I don't write perfect grammar. I make many grammar mistakes because I don't know proper grammar. And the best part is, I don't care.
Do you care? No. Nobody cares.
So, you are a writer and have done that many times before. You can do it again. You need courage and confidence.
I don't think you should write your first book now. Why not start a blog? It is one of the most satisfying things to do.
Why blogging?
You might wonder why I didn't recommend you create a freelancer profile on freelancing platforms like Upwork or Fiverr to earn money from home.
Because this is not the time to seek new jobs or earn some quick bucks. Everybody should consider start building a career and building a business online at this time.
That is why we want to consider blogging.
If blogging is not the fastest way to earn your living money, you can build your career as a blogger. Patience and hard work are critical factors for blogging success.
As it takes time, you better start blogging right now.
Do you have a blog?
If you already have a blog, this is the best time to write a few excellent articles. Maybe you have abandoned your blog for years because you couldn't find enough time to write on that, right?
Now, you have all the time in the world.
You just have to clean the dust and publish it on your blog again.
People who already have blogs can try guest blogging and build quality backlinks. If you could generate a few quality backlinks within this time, you'll see positive results when we overcome the crisis.
So, don't waste time. This is the best time to write. 
If you don't have a blog,
I don't recommend anybody to set up a new blog right now. You might be able to set up your own blog within 1-2 hours, but don't go for it.
This is not the best time for that.
Because if you have trapped in fixing issues or designing logos, headers, and social media profiles for the blog, this precious time will slip away in the blink of an eye.
I have been trapped in that rabbit hole several times, and that is why I don't want you to do it. Instead, I suggest you start writing a few valuable articles for your future blog. Write first. You can publish it later.
If you want to publish your articles somewhere so badly, don't worry. You can do that with a few clicks for free. I have the experience that Medium is the best platform to publish your articles.
Why Medium is the best
Anyone with a Medium free account can write on this platform, and the best part is since 2012, Medium has grown into a community of expert writers and bloggers.
So, you can expose your articles to a massive audience with the same interests. You just have to create an account on Medium. No coding knowledge is required, and it is just like setting up a social media profile.
Setting up your blog on Medium is easy, and you'll have the cleanest and simplest blog within a few minutes. Now you have to focus on writing good content.
If you are an excellent writer, you can earn from Medium too. But don't even think about making money from the first day. Just practice writing and try to write the best content all the time.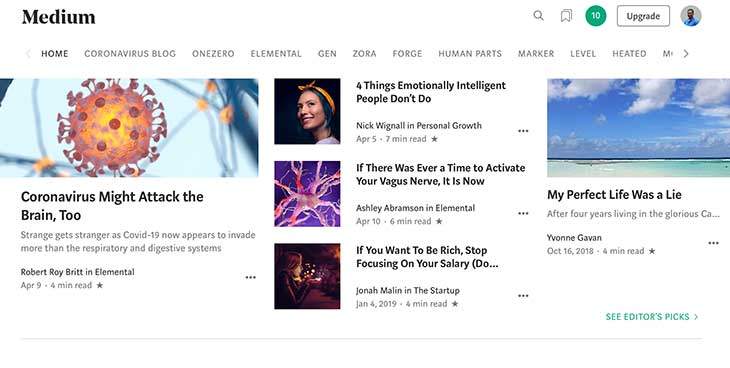 If you want to set up your own blog,
However, if you want to set up your own blog, consider buying your domain name and hosting your blog on Namecheap or Bluehost. My experience was excellent with those companies when I set up my own blog.
And they have some great discounted packages these days.
If you know nothing about coding or Wordpress like me, follow this fantastic step-by-step guide with screenshots originally written for people like us.
How to start a WordPress blog in 30 minutes or less [A Definitive Guide]
Develop some necessary blogging skills
To become a successful blogger or pro blogger, you must develop some skills. This is especially the best time to write and develop new skills at home all day. Here, I'm asking you to improve these five primary skills related to blogging.
1. Writing skill
This is the most important of all for a blogger. To improve your writing skills, you have to do two things.
Read a lot and write a lot. I mean a whole lot. If you are still thinking about writing instead of doing it, find my story of overcoming my writing fear.
2. SEO
I knew nothing about search engine optimization (SEO) when I started blogging. That was one of the worst mistakes I have ever made in my blogging career. Writing good content is not good enough. You have to bring your precious content to the relevant audience. That is where SEO comes into play.
Good SEO means good organic traffic to your blog. Good traffic means good income. So, SEO is everywhere. Start reading about SEO to get proper knowledge about basic SEO practices. That'll help you to become a successful blogger.
3. Photo editing
You don't have to achieve pro-level photo editing skills. Basic photo editing is enough to resize images and add some text.
If you are a beginner with no prior photo editing experience, start with a free online editing tool like Canva. It is a pretty easy editing tool that has beautiful templates. You must modify the templates to have the right image for your blog.
If you are looking for an advanced editing package, Photoshop (Windows, macOS), Affinity Photo (Windows, macOS), and Pixelmator (macOS) are the best. All three are paid software, and Photoshop and Affinity Photos are in the pro category.
4. WordPress
I do not mean that you should learn some serious coding to work with WordPress. But you must learn the basics to know how our blogs run on WordPress.
In the beginning, focus on learning these basics,
How to install WordPress from cPanel
Install a theme on WordPress
How to install and work with WordPress plugins
Must have plugins like cache, backup, and SEO plugins
How WordPress widgets work
How to use FTP software
Setting up CDN service
5. Social media marketing
Social media marketing is one of the trending topics these days because it is one of the most powerful methods to drive traffic to your blog and convert them into customers.
It is more than growing your followers and sharing your content online via your social media. So, if you want exclusive social media marketing tips and tricks in your inbox, sign up for our weekly newsletter by entering your email in the box below.
We only share these tips and tricks with our email subscribers.
My best writing tips for beginners
Finally, let me tell you these two writing tips I have learned by blogging for a few years and reading many articles from successful bloggers and writers. If you are a beginner, please keep these tips in mind when writing.
1. Blogging is not academic or business writing
If you have already drowned in academic writing, you might have to work harder to come out from that and find your own blogging voice.
Academic and business writings are too formal and dull. People don't like to read those. The easiest method is not to use any word or phrase you don't apply when speaking.
Do you use "Moreover" or "In conclusion" when you speak with someone? Not at all, right? Then don't use those when you write for your blog. Your readers would love to feel like you speak to them when they read the article.
2. Always use bullet points
People don't have time for bland and mediocre articles. So, they scan and skim blog posts before they read them. I do that all the time.
I want to know if it is the one I want to read and has everything I am looking for. So, you are responsible for arranging everything with sub-topics and bullet points to show readers what you have written in the article.
And don't write big chunks of words that are difficult to digest. Use some extra white space. Breaking paragraphs after 2-4 sentences is better, I think.
Over to you
In this coronavirus crisis, we all suck. But as long as you write something daily, you are doing great. And that is the only thing that matters.
Doctors, nurses, and all the other healthcare professionals are fighting this deadly virus at the front line for us. They are sacrificing their lives and their loved ones for us.
Staying at home is just half of your contribution to the world. You should do more while you can, which is the best way to honor their sacrifices. So, start writing because this is the best time to write. The world is asking for your excellent work now more than ever.