Do you get enough traffic for your blog? If yes, most probably, you do everything right. But, if you do not have enough blog traffic, you might want to add at least a few more things to the list.
Even top bloggers complain blog traffic has been going down for years. So, don't worry too much about dipping your blog traffic. It is real, and it is happening now.
Why?
Maybe people do not want to read anymore; people do not have time to read long-form content, the internet is saturated with blog posts, or perhaps marketers promote crappy content to get attention from readers. I do not know the exact reason.
However, we have to understand one thing. Writing for the blog, following SEO tricks, and promoting content on social media are not enough anymore. But it was entirely a solid strategy a few years ago.
So, what else can you do?
Shut down your blog. No, don't even think about that.
Do you consider Medium or LinkedIn as a primary writing platform? I do not think so.
Do these instead,
Write better
That is what you should do as the first thing. Quitting is not an option. So, you have to become a better writer. It does not happen overnight. Years-long practice makes you a better writer.
If you are not ready yet, hire an experienced blog writer while preparing for the game.
To become a better writer and get the traffic you want, you must identify your audience and what they want to read. Then focus on the value of the content and write.
My advice is, do not always give priority to SEO. It is just one pillar of successful blogging. Sometimes, natural writing flows when you do not even bother with keywords and SEO.
Long-form content performs better on search engines. Top bloggers like Neil Patel and Brian Dean prove it. We don't have to waste our time arguing that, but you don't have to write 2000+ words all the time.
Short articles are also vital because all the readers are not long essay-type people. Some people like 500 words articles. It is your responsibility to care about all types of readers.
Create video content
If I want to know something clearly and quickly, I go to YouTube immediately because it takes less time, and learning something new with a video and audio is easier than reading an in-depth blog post for 20 minutes.
So, creating video content is a must now. Record a video and upload it to your YouTube channel. You'll get a ton of blog traffic directly from YouTube.
And you can embed those videos into your blog posts also. If you want to make some extra money, monetize your YouTube videos. Isn't that great?
Start a podcast show
The podcasts are excellent. Creating a podcast show is another effective method to generate tremendous blog traffic. Yes, it is time-consuming, and you'll have to spend extra money on gear such as microphones and headphones.
Sound quality matters the most in podcasts. So, If you want to do that like a pro, arrange a room for better audio recording or consider working with a studio.
The money and time you spend on a podcast show are worth every last bit. I can guarantee you that because once, I worked with an Australian client who was an inspirational speaker.
He generates all his blog traffic and new social media followers and gets hired by companies via his daily podcast. He records podcasts less than 5 minutes long and finds his audience from Apple Podcasts and Spotify.
Answer questions
Don't just write everywhere on the internet or post comments on blogs without any sense. Answer questions. People have so many things to solve because the world is complicated.
That is why Quora was created and became a huge success. So, it is one of the best places to answer people's questions. People will find you and your blog if you give the correct answer.
It is free, and I have explained how Quora works here.
It is OK to steal blog post ideas from others.
Facebook groups also have so many questions. Just join some niche-specific groups and write answers.
Answering five questions per day on Quora or Facebook is worth more than publishing five articles on your blog.
Optimize for mobile
If you do not get enough blog traffic, your blog may not be mobile-friendly. 
Today, almost everything is possible on tablets and smartphones. So, a significant number of readers come to your blog via mobile devices, and mobile traffic grows year over year.
From the SEO point of view, search engines prefer mobile-friendly sites. Simply put, if your blog is not optimized correctly, Google will not rank your blog higher. So, it matters, right?
There are many ways you can make a mobile-friendly blog. The easiest way is using a mobile responsive theme. Fortunately, most of the WordPress themes are mobile responsive now.
But, even with a responsive theme, you should optimize more to give your readers a fully-featured desktop experience on mobile by just using their fingertips.
Google has created a dedicated tool to check your site's mobile-friendliness. Fortunately, it is free and called a Mobile-Friendly test.
You have to enter your URL and run. You'll see a full report with the recommended changes within a few seconds.
When you design your mobile-friendly blog, consider these to bring your site up to the standard level.
Cleaner and simple design
Redesign pop-ups for mobile (easy to close)
Large front
Optimize image sizes
Finger-ready icons and menus
Proper social sharing buttons
Improve site loading time – use Google's mobile speed test tool.
Hiring a pro is not a shame if you can't optimize enough. It is worth every last dollar.
Patience
You will not get a ton of blog traffic within a few months. Even some top-level bloggers struggle for years. So don't worry. It takes time.
Most bloggers give up too early.
Do you know why? Most beginners are motivated by money. So, they start a blog to generate 1000$ per month without doing anything. Within a few months, they understand that it is impossible.
You just have to work hard and be patient.
Note: Please PIN the image below.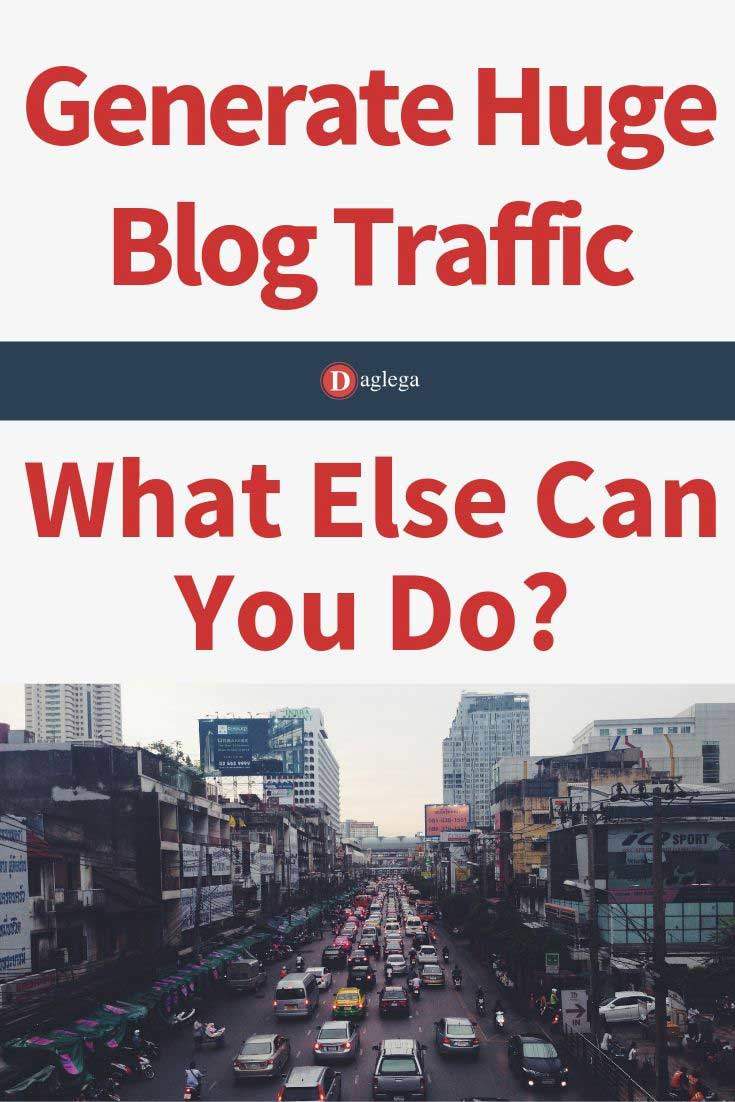 Wrapping up
If you throw some money, you can generate traffic for the worst content because online marketing is aggressive and spoiled.
But, the problem is you don't get loyal and long-term readers. If you want to grow your blog traffic genuinely, don't rely on spammy marketing methods.
Finally, it is not how you generate traffic. Blogging is a passion. If nobody reads your blog, you should publish your content on the internet.
That is where your goals should be set.
If you want to see how prominent bloggers follow these tricks to generate a ton of traffic, just let me know. I will show you some stat reports and screenshots.